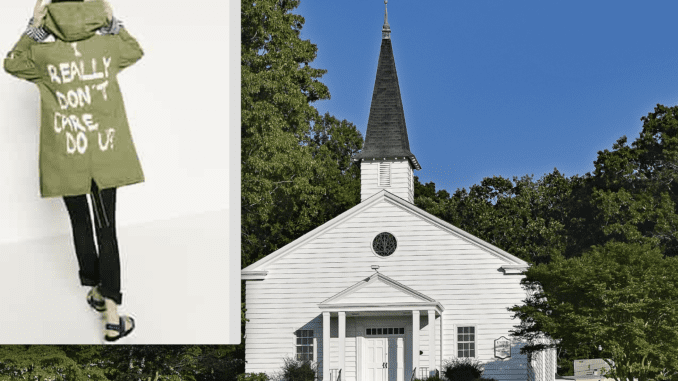 AKRON, PA
Mrs. Melanie Troyer, 43, wife of Reverend Dilbert Troyer, showed up to church this morning sporting a "I Really Don't Care, Do You?" jacket that she purchased online at Zara. The Troyers were quick to say it meant "absolutely nothing," though that didn't stop the local media from suggesting otherwise.
"I know Mrs. Troyer and she doesn't just toss on any old thing without it meaning something," said local Mennonite news anchor Peter Stoltzfus. "I think she's sending a message to the Mennonite church."
While some are suggesting it's all just a coincidence, it should be noted that Reverend Troyer's message this morning was on wives submitting to their husbands, in which, like usual, he conveniently left out all those verses about husbands laying down their lives for their wives.
"Quite frankly, I think she should wear that jacket more often," said church member Mrs. Kauffmann. "I'm thinking of getting one myself!"
The church quilting club is also planning on sewing a huge "I Really Don't Care, Do You?" quilt and displaying it prominently in the church foyer.
"Our message is this: get rid of all your stupid legalistic rules and made-up traditions or you'll see a lot more quilts and jackets like this," said Mrs. Kauffmann. "I really don't care what the elders have to say, do you?"