The Daily Bonnet, your trusted source for Mennonite satire, is a collection of more than 2700 satirical articles written by Andrew Unger between 2016 and 2023. The best articles are collected in the book The Best of the Bonnet.
The Best of the Bonnet is available in stores and online at McNally Robinson, Indigo, Mennonite Heritage Village, CommonWord, Fables Books and many others, as well as online retailers such as Amazon. If your local independent bookstore doesn't have it in stock, just ask and they can probably order it for you!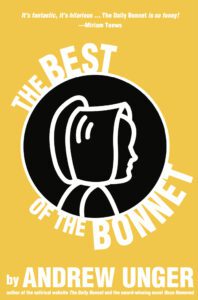 The Unger Review contains all new satirical articles by Andrew Unger and a complete searchable archive of Daily Bonnet articles.