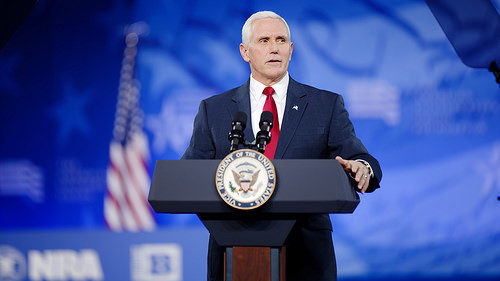 WASHINGTON, DC
Ultra-likable former Indiana governor Mike Pence was sworn in as President of the United States this afternoon in an intimate ceremony at the White House.
"It's good to have options," says Pence. "If you don't want Trump, you've always got me, and I plan to serve this country with the zest and zeal you've come to expect from a man with my tremendous pedigree and charisma."
Pence says he was sad to see Trump go, but is certain he will be able to fill Trump's tremendously large shoes.
"I plan to last at least as long as Mr. Trump," said Pence. "I might even last as long as Nixon."
President Pence said he had a lot of work to do to get to the bottom of all these scandals, but was hopeful that he would also have time to create a few of his own.
"We've got a great new staff of really hard-working and reliable people coming in," said President Pence. "You should see the team of Fox News pundits I've hired."
Disgraced TV host Bill O'Reilly was sworn in as Vice-President in a ceremony a few minutes later.
(photo credit: by Michael Vadon/CC)