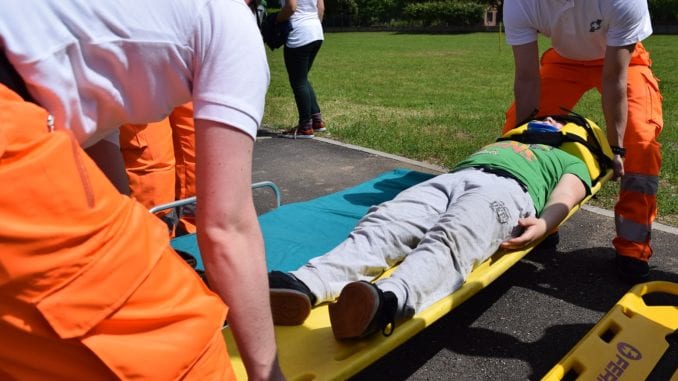 WINNIPEG, MB
Beginning with Black Friday and ending on Christmas Eve, the Frosty Shores Mall in Winnipeg will be offering customers free gift wrapping, parking validation, and an escort out of the building on a stretcher when you're done.
"We just wanted to make everyone comfortable here at the mall," said manager Richard Dyck. "If you happen to have the grave misfortunate of finding yourself in our walls sometime during the next few weeks, we want you to know, we have your back…and have medical personal standing by!"
The Frosty Shores Mall was so jam-packed over the weekend that numerous Mennonites and other bargain hunters found themselves making use of the service.
"I wasn't even hurt, but I figured, hey, if some strapping young Englishers will drag me out of here for free, yes, I might as well take them up on the offer," said Mrs. Reimer of North Kildonan. "I'm coming back tomorrow and I expect similar treatment."
While on her way out on the stretcher, Mrs. Reimer asked the young men to stop by at Northern Reflections so she could grab a sweater or two.
"I'm going to tell all my friends about this mall," said Mrs. Reimer. "They'll take you all the way to the hospital for free yet!"
When the mall closed on Sunday evening, more than three thousand people were removed via stretcher, most of them Mennonites who just weren't used to this sort of thing.