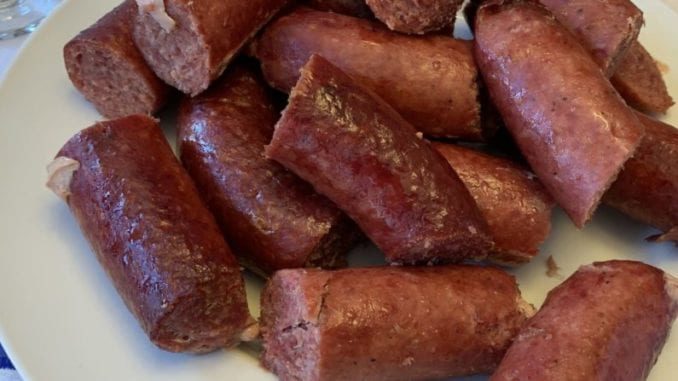 EDMONTON, AB
Cargo trains of farmer sausage have been loaded up in Winnipeg and are on their way to Edmonton this week after a massive sausage shortage struck the oil-rich province.
"They always say Manitoba's a have-not province," said Manitoba Premier Goertzen. "But when it comes to formavorscht, we're definitely a have."
The need for farmer sausage in Alberta became especially evident after more than 2000 cases of sausage-deprivation were found in the province in a single day.
"Please send us your sausage," begged Taber woman Doris Plett. "Pioneer. Winkler. Schanzenfeld. If it's lightly-seasoned smoked pork in a natural casing, we'll take it!"
The train cars full of sausage are currently being detained in Saskatchewan where locals are not sure they're going to let them go on their way to Alberta.
"It's so nice of those Manitobans to send us all this formavorscht," said Dan Kroeker of Swift Current, dipping a raw piece of sausage in some vinegar and taking a bite. "It sure beats smuggling it in our suitcases like we usually do."
Alberta Premier Jason Kenney is petitioning Amnesty International to force Saskatchewan to free the sausage and send it to thousands of hungry Albertans.