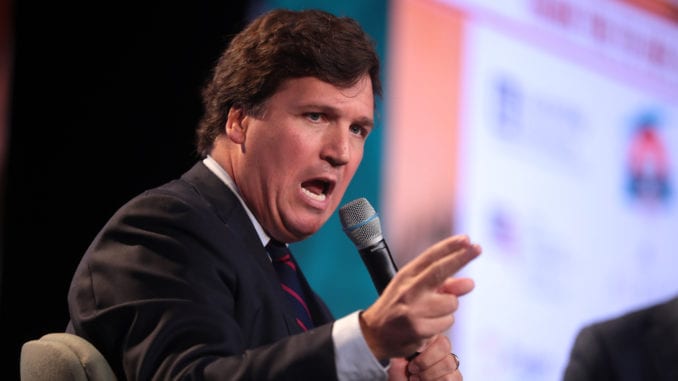 NEW YORK, NY
IN AN EFFORT TO GET THE ATTENTION OF ANYONE WHO WASN'T YET WATCHING, FOX NEWS IS GOING TO BE USING 'ALL CAPS' FOR ALL ITS NEWS BROADCASTS AND WEB CONTENT FROM NOW ON.
"OUR NEW SLOGAN IS 'ALL SENSATIONALISM ALL THE TIME' AND WHAT BETTER WAY TO REPRESENT THAT THEN WITH UPPERCASE LETTERS!" EXPLAINED FOX NEWS ANCHOR TUCKER CARLSON. " WE ALSO WANT TO GIVE PEOPLE THE IMPRESSION WE'RE YELLING ALL THE TIME…I'D SAY THAT'S A PRETTY ACCURATE IMPRESSION!"
FOX NEWS HAS ALREADY TESTED OUT THE NEW 'ALL CAPS' FORMAT ON SEVERAL ARTICLES POSTED TO ITS WEBSITE.
"DONALD TRUMP IS GREATEST PRESIDENT EVER!" DECLARED ONE HEADLINE. "ILLEGALS ARE TAKING OVER THE NATION!" DECLARED ANOTHER.
SO FAR THE RESPONSE TO THE CHANGE HAS BEEN FAVOURABLE AS 100% OF THE COMMENTERS ON THE FOX NEWS FACEBOOK PAGE HAD ALREADY ADOPTED THE 'ALL CAPS' FORMAT YEARS AGO.
"IT MAKES IT EASIER TO READ," SAID FOX NEWS FAN MRS. YODER. "AND FOR SOME REASON I CAN'T QUITE EXPLAIN, IT ALSO MAKES IT EASIER TO HEAR."
CNN PLANS TO MOVE TO 'ALL CAPS' LATER IN THE YEAR IF THEY STILL HAVE ANY VIEWERS LEFT AT THAT POINT.
(photo credit: Gage Skidmore/CC)