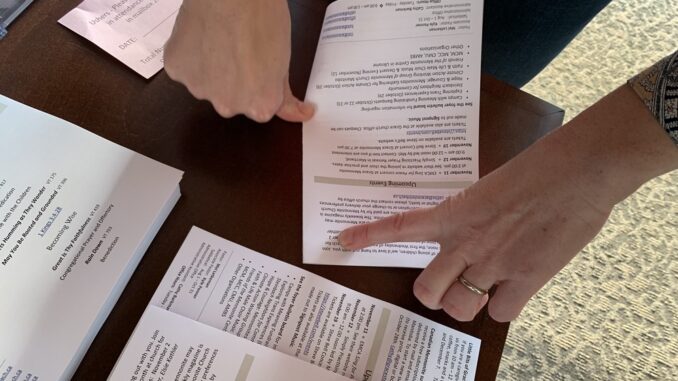 STEINBACH, MB
Area woman Lana Koop, 43, set an all time record this past Sunday by folding and stuffing more than 300 bulletins in just five minutes.
"I knew that people would start filing in around 9:45, so I had to get these things folded pronto!" said Koop. "I was flipping and folding like you've never seen before! I even got all the Steve Bell concert inserts stuffed in there in no time!"
The most remarkable thing about her bulletin folding achievement, however, is the fact that she didn't get a single paper cut.
"Mrs. Neufeld was standing nearby praying for the safety of my fingers and I think it worked," explained Koop. "I came out completely unscathed, even after more than 300 folds."
Koop is so confident in her abilities that she plans to arrive just three minutes before the people arrive next time she's on bulletin-folding duty.
"Like they always say, if you've got it, flaunt it," said Koop. "I'm just glad my husband didn't try to help me out as that really would have slowed things down."
Meanwhile, the local faspa committee set more than 50 tables with cheese curds and sugar cubes in a record 6 minutes and 35 seconds.