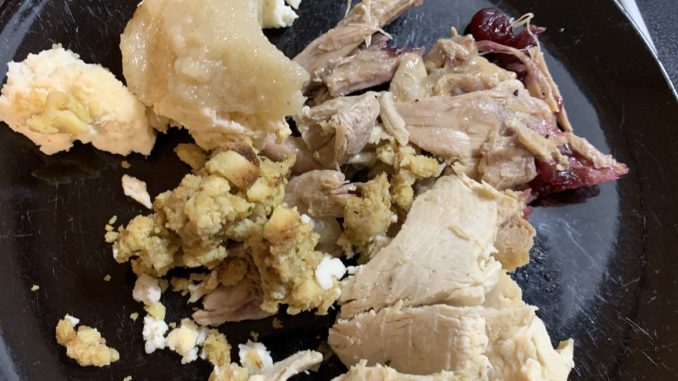 ST. CATHARINES, ON
Days after being forgotten about in a margarine container at the back of the fridge, a plate of Thanksgiving leftovers were resurrected from the dead by local plumber and church elder, Peter Giesbrecht, of St. Catharines.
"I assumed I'd never see that cold turkey and gelatinized gravy again," said Giesbrecht. "But I opened up that mysterious plastic container and lo and behold there they were just waiting to be microwaved. Even the cranberry sauce didn't look any worse for wear."
Giesbrecht is being hailed as a miracle worker and has been recruited by his buddies Mr. Wiebe and Mr. Klassen to explore the depths of their refrigerators to see what wonders he might uncover.
"I'm hoping for some more of Mildred's ambrosia salad," said Mr. Wiebe. "If he can resurrect some of that, I'm ready to declare him a saint or elect him pastor or whatever."
Giesbrecht says the key to resurrecting a plate of Thanksgiving goodies is to set the microwave to high heat and give it two minutes or until you start hearing that snap, crackle and pop.
"That's the sign the mashed potatoes are just about ready," said Giesbrecht. "I don't want to brag, but I've been known to bring leftovers back from the dead after three, four, even five days."
Particularly devout Mennonites are already lighting candles and setting up an effigy of Giesbrecht in front of the Kenmore microwave in the church basement.