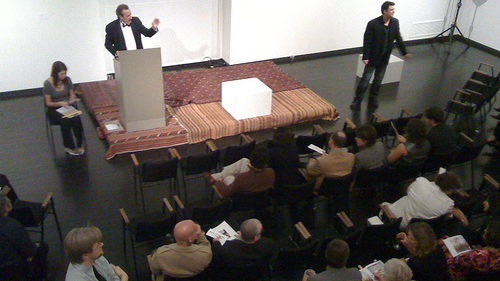 NEW YORK, NY
Bidding was frenzied at a recent antiquarian book auction in New York City this week. Of particular interest to collectors was a rare out-of-print copy of Dr. Jack Thiessen's 'Mennonite Low German Dictionary.'
"Bidding started at 35 cents and skyrocketed from there," said Sotheby's auctioneer Alana Whitcomb. "There are so few Plautdietsch dictionaries out there that Mennonites are willing to sell the farm to get one…literally."
Dr. Thiessen's dictionary broke an auction record previously held by a signed first edition of Geoffrey Chaucer's Canterbury Tales.
"Without a good Plautdietsch dictionary like Dr. Thiessen's, Mennonites are just making up words and spellings as they go," explained Whitcomb. "There are sixteen known variations of the word schmauntfat alone. It's difficult for Plautdietsch writers out there. Without a good dictionary, they're completely lost. That's what started the bidding war."
The winning bidder was Mrs. Helen Toews of Winkler, a church secretary and amateur poet, who sold her family's dairy quota to pay for the book.
"Finally I'll be able to spell Plautdietsch words with confidence!" said Mrs. Toews. "The church bulletins will never be the same!"
The rare Thiessen dictionary was purchased last year in Steinbach at the local thrift store. Now that he's a millionaire, the generous seller, who wishes to remain anonymous, plans to donate the two dollars he originally spent on the book back to the MCC.
(photo credit: by mcmorgan08/CC)