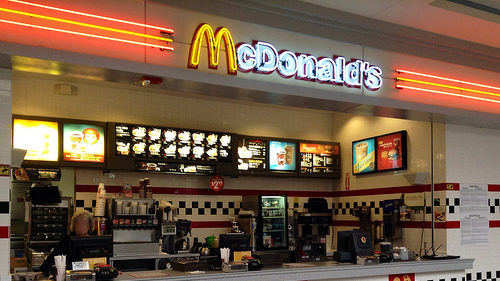 STEINBACH, MB
Inspired by patrons in Winkler, Steinbach and other predominantly Mennonite communities that McDonalds serves, the international fast food chain is testing out a new menu item: tomato soup made from ketchup packets and water from the bathroom sink.
"Old Mennonite men have been making tomato soup in this manner for years," explained McDonalds spokesperson Nadine Lewis. "They take a few free ketchup packets, mix it with lukewarm water, swirl it around a bit, and, voila! free tomato soup."
According to Lewis, the hope is that if official Mennonite Tomato Soup is offered on the menu, some of these customers will actually pay for it, rather than just making it themselves.
"It'll be $0.99, which I think people will find a good value. Or else, you can get the SuperSize version for $1.29," said Lewis. "If these men are going to sit around and drink refills of coffee all day long, they might as well pay a little something for their tomato soup."
McDonalds is also planning to put a lock and key on the napkin dispenser in some locations, so that Mennonites no longer take them home and use them as toilet paper.
(Photo credit: by JeepersMedia/CC)