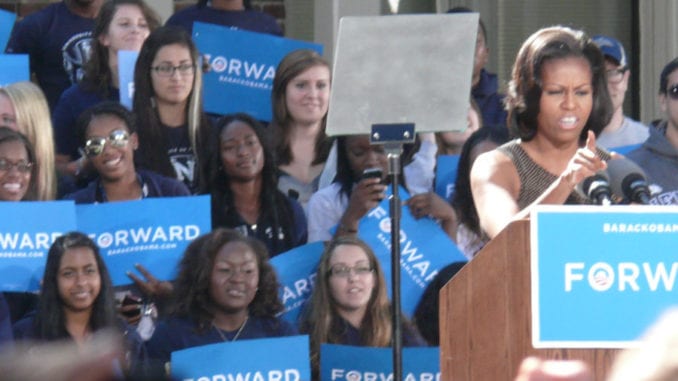 NEWTON, KS
A well-meaning pastor's wife from Newton has come under fire recently for unintentionally plagiarizing a speech by First Lady Michelle Obama.
While politely conversing at a women's quilting bee this past week, Melanie Dunkel, wife of Rev. Daniel Dunkel, accidentally blurted out to the ladies, "Barack and I were raised with so many of the same values, like you work hard for what you want in life. That your word is your bond, that you do what you say you're going to do."
After the inexplicable outburst, the quilting ladies were left in shock.
"What was that? Did she say 'Barack and I'?" pondered Elma Fehr, 73. "I nearly pricked my finger with this sewing needle when she said that."
Setting down her log cabin block, Barb Schmidt exclaimed, "That sounds like plagariasim to me! The least she should have done was properly cite her remark in Turabian style."
Rev. Dunkel was quick to come to his wife's defence noting that, "she isn't from this country. She's a Friesen from Canada. Her first language is Low German. I don't think the plagiarism was intentional."
Dunkel's supporters are also suggesting that Melanie, like many pastor's wives, may have hired a casual conversation writer and that the writer, not Melanie, should be held responsible for the plagiarism.
(Photo credit: by occupyreno_media/CC)