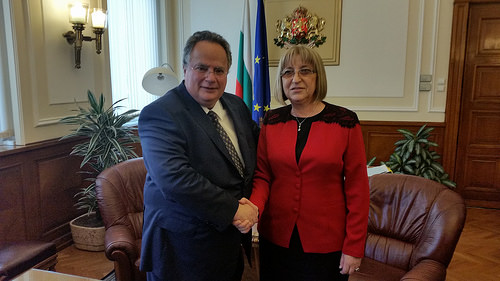 TORONTO, ON
Canadians from coast-to-coast have been glued to their television sets this fall watching coverage of the upcoming Presidential election in Bulgaria.
"Canadians can't get enough of the bickering back and forth between frontrunners Tsetska Tsacheva and Rumen Radev. They're obsessed with it," said Canadian political analyst Leon MacMillan. "It's sad really, but people are paying more attention to this Bulgarian election than they ever did during the last Canadian election."
MacMillan reports that there has been a significant uptick in social media posts about the upcoming Bulgarian presidential race.
"Everything Radev or Tsacheva says is being retweeted or argued about on Canadian message boards," said MacMillan. "There are even hashtags #CanucksForTsacheva and #CanadiansLoveRadev. It's really dividing the nation, quite frankly."
Some Canadians have reported feeling overwhelmed with all the media coverage of the election and are looking forward to going back to regular life after November 6.
"The attack ads are just sickening," said Mrs. Ethel Banman of Abbotsford. "Everywhere you look, it's Tsacheva this or Radev that. I think it's unfair the media isn't paying enough attention to Krasimir Karakachanov. But, you know, what else would I expect from CNN?"
The unprecedented negative tone of the Bulgarian election has some Canadians grateful to live in the great white north.
"I don't know if I could choose between those two," said Jeremy Robertson of Edmonton. "This Bulgarian election really makes me glad to be a Canadian."
(Photo credit: by Υπουργείο Εξωτερικών/CC)