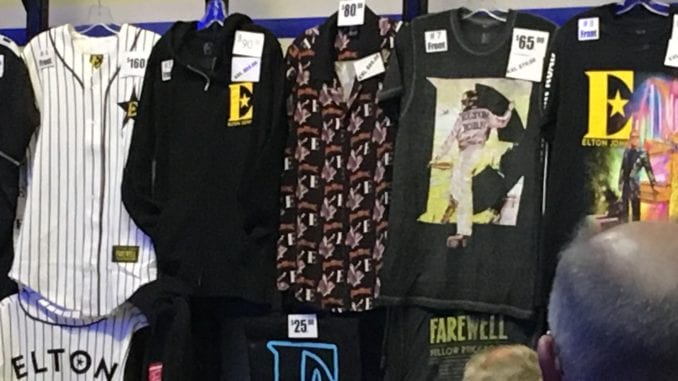 WINNIPEG, MB
Mennonites were crowding the hallways at the Bell MTS Place last night to get their hands on some $65 Elton John T-Shirts.
"Oba, yo! Oh, look, a hoodie for $125 and for just $330 I can get a jean jacket!" exclaimed Mrs. Loewen from Winkler. "I've never seen just affordable prices at this location since they shut down the basement at Eaton's."
Mrs. Loewen is in Winnipeg all weekend, having bought tickets to both shows. She's interested in hearing "Candle in the Wind" and "Crocodile Rock," but says she was most excited to do a little shopping.
"Let's face it. You can't get an Elton John T-Shirt in Winkler, not at these bargain prices anyway," said Mrs. Loewen. "In fact, I'm a little afraid what the quilting ladies will think of me when I wear this one next week. It's got a lot more colour and sparkles than Winkler bylaws allow."
Mrs. Loewen snatched up more than fifty "Goodbye Yellow Brick Road" T-Shirts, which she plans to re-sell at a profit from the trunk of her car in Winkler.
"Come on down to the EMBC parking lot next Sunday," said Mrs. Loewen. "If you missed out on the $65 Elton shirts, you can buy one from me for only $80."
Mrs. Loewen said she's been relegated to the parking lot after her request to sell Elton merch in the lobby was denied by every church in town.