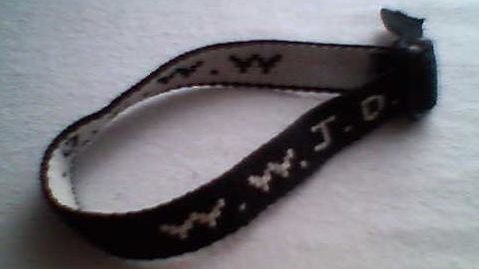 BEATRICE, NE
In honour of long-term elder Mr. Jansen, the ECCM Mennonite Church of Beatrice has introduced a new product for sale in the church book store: a limited-edition 'What Would Jansen Do?' bracelet.
"You better get 'em while they're hot," said Pastor Ron. "These WWJD bracelets are going like hotcakes."
The bracelets are a reminder of everything that a good Mennonite stands for.
"Whenever you look at your left hand, you'll be reminded of Mr. Jansen and remember, 'No dancing, no smoking, no rock and roll, and certainly no sitting too close to the women during choir practice,'" explained Pastor Ron. "These bracelets are going to save our young people from a world of trouble."
The What Would Jansen Do bracelets are considered a little stricter than the original WWJD bracelets that were popular in the '90s.
"As a long time Mennonite church pastor, I always thought Jesus didn't have nearly enough rules, which is why our model is church elders like Mr. Jansen. He doesn't put up with any nonsense," explained Pastor Ron. "I'm sure every church member will want to have one of these on their wrists. Maybe even both wrists."
(photo credit: CrazyLegsKC/CC)