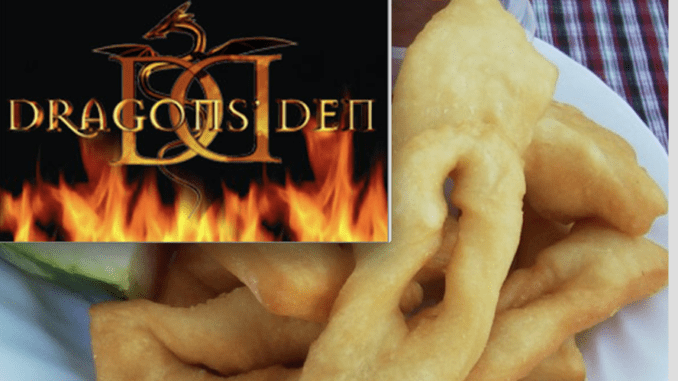 TORONTO, ON
Lillianne and Gerald Koop of Dalmeny, Saskatchewan shattered the record for largest deal ever on Dragon's Den with their delicious roll kuchen recipe. The roll kuchen company started a bidding war, with Manjit Minhas and Jim Treliving coughing up $10 million for a 5% share in the company.
"We're really excited to bring roll kuchen to the masses," said Manjit. "After one bite, I knew this was going to be a billion dollar company. I'm also thinking of investing in Roger's Golden Syrup."
The recipe is exactly the same as the one found in the Mennonite Treasury Cookbook, but this didn't stop the Dragons from going batshit crazy for it.
"I've never tasted anything like it," said Jim. "I think we might be able to sell it at Boston Pizza. The profit margins on watermelon are tremendous!"
The Koops are really excited about signing a deal with the Dragons and are hoping to hire more than 600 Mennonite grandmas to work at their massive new Dalmeny factory.
"If you're a Mennonite woman between the ages of 75 and 90 and are willing to relocate to northern Saskatchewan then we've got a job for you!" said Gerald. "We're also looking for a variety of Abes and Jakes to act as quality control taste testers."
The commercially-produced roll kuchen is expected to be in stores before Christmas. Arlene and Joe have already recruited a Mennonite couple from the Pembina Valley to create a competing roll kuchen company.
"I think there's room for competition," said Arlene. "Roll Kuchen is going to be the next Orville Redenbachers."
After the episode aired last night, roll kuchen prices have dramatically increased at church bake sales across the Canadian prairies.