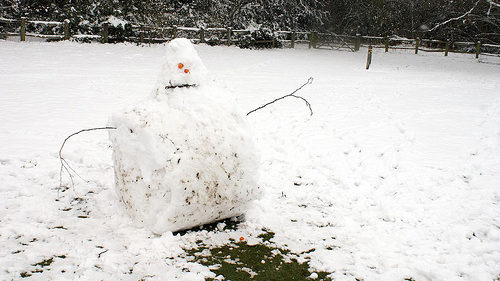 PASTWA, MB
A local snowman was shunned this week for setting a bad example for the young people of the congregation by dressing immodestly.
"There he is out in the yard without any clothes on yet," said Elder Pete Peters. "It's nijch paussent for snowmen to be seen like that in public."
A committee has been formed to purchase some suspenders for the snowman but some congregants are saying that suspenders would not be enough.
"We really ought to cover him up with a sheet until it warms up in spring," said Peters. "What kind of vile person would build a snowman wearing nothing but a corncob pipe, a button nose, and two eyes made out of coal? Disgusting!"
Until such time as the snowman sees the error of his ways and comes to the elders begging for forgiveness, he will have to eat alone and no children will be allowed to go anywhere near him.
"We're hoping he comes to his senses and puts on some pants before the snow melts," said Peters. "We don't put up with that kind of behaviour. If he wants to dress like that he can join a General Conference church."
(Photo credit: by Martin Pettitt/CC)