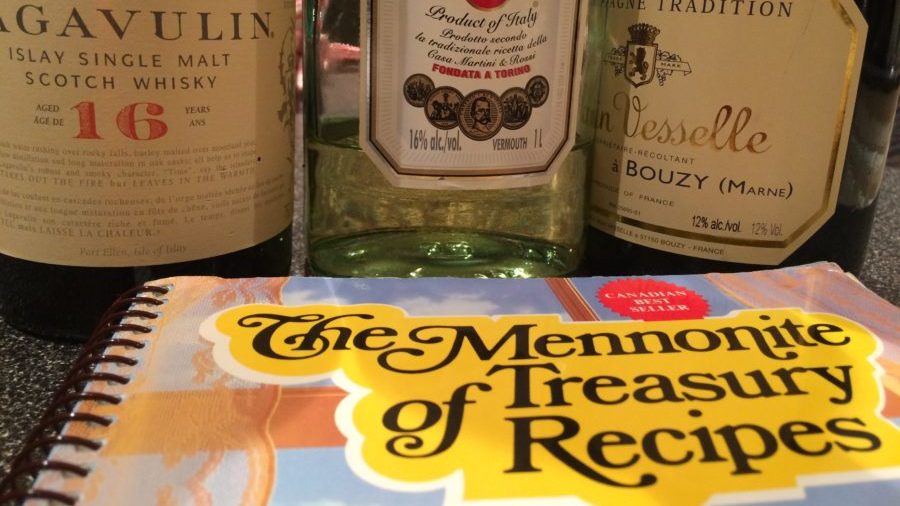 The Mennonite Treasury Cookbook is a veritable bounty of classic Mennonite recipes. However, until now Mennonites were left completely on their own when determining what beverage to closet-drink with their chosen dish. Thanks to extensive testing and consultation with expert Mennonite sommeliers, Mennonites can now accurately pair a wine, beer or other beverage with their favourite dish. Here's a look at some of the favourites.
Green Been Soup (page 17)
The delicate flavours of bean and farmer sausage in this classic jreen Schaubel Sup recipe by Mrs. Reimer of Steinbach pairs well with an elegant German Riesling such as the Wittmann Aulerde or Gustav Adolf Schmitt Clean Slate from Mosel. Please, for the sake of all that is good in the world, don't forget to "take off scum while cooking meat" as Mrs. Reimer suggests.
Cottage Cheese Cakes (page 22)
The fried "glums koki" is the dirtier, greasier cousin of the boiled vereneki, and as such pairs well with a flavourful craft beer such as Half Pints Little Scrapper IPA or PEG Beer Company's Life Coach Session IPA. Mrs. Peters may not approve of hops, but your tastebuds will when they try this intriguing flavour combination.
Ruehrei (page 16)
Whether you eat them with syrup or, as my grandfather did, with vinegar, the Mennonite scrabbled egg dish is versatile and satisfying, thus providing you with a wide variety of pairing options. I like my ruehrei with a pisco sour or perhaps a nice gin and tonic or five.
Formavorscht
There is no recipe for farmer sausage in the cookbook because everyone already knows how to cook it, and some people even eat it raw. The smoked Mennonite delicacy pairs well with an Islay Scotch, such as Lagavulin 16 Year, which has a robust peaty nose that matches perfectly with a nice Pioneer or Schanzenfeld formavorscht.
Rhubarb Platz (page 9)
Rhubarb is a complex fruit (or weed or whatever it is), with an intense sour taste. The Daily Bonnet recommends fighting sour with sour and so a Flemish red ale like a Duchesse de Bourgogne or a Cantillon Lambic ale will provide a suitably puckering experience.
Plumi Moos (page 21)
Choking down grandma's plumi moos requires a great deal of lubrication. In this case we recommend something cheap and fast like a 2-litre plastic bottle of malt liquor or perhaps your uncle's moonshine or dandelion wine. Whatever you decide, you're going to need something to get that plumi moos down your gullet.
Dill Pickles (page 199)
The Mennonite Treasury offers almost two-dozen different pickle recipes. Although some strange Mennonites can tolerate the sweetness of a Bread and Butter pickle, the more common choice is a nice crisp and sour dill pickle such as the one described by Eva Neufeld of Niverville on page 199. The pickle works surprisingly well with the tingly palate of a Champagne or, since we're all Mennonites here, a cheaper sparkling wine from another region where they make the exact same thing at half the price.
Schmaunt Fat (page 14)
For a cookbook full of Mennonite recipes, it's actually surprising there is only one recipe for "cream gravy for wareneki." The Daily Bonnet recommends remaining completely sober when consuming schmaunt fat, and in extreme cases of thirst, the schmaunt may be poured into one of those big German beer steins and drank directly.
Klopps (page 97)
There are very few Mennonite dishes that can hold up to a nice robust red wine, but klopps (or meat balls) made with chunks of onion and bread crumbs is one of them. Wayne Gretzky's got a winery, so you could try that. Or perhaps you'd prefer your klopps with a bottle of Gouguenheim Reserva Malbec from Argentina. If there's one thing Mennonites and Argentines have in common after a few bottles of wine, it's a love for red meat…and also, apparently, tango dancing.
As always, please closet-drink responsibly.