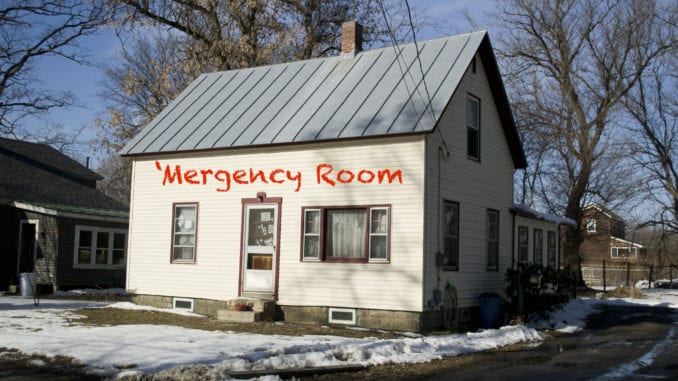 WINNIPEG, MB
The provincial government recently announced an exciting new plan to shut down all Winnipeg emergency rooms and move them to this old "fixer-upper" they found in Transcona.
"Let me tell you, this bungalow is a handyman's dream," said health minister Christopher Froese. "Best of all, we just might have enough room to squeeze in an MRI machine in the shed out back!"
The new 'Mergency Room will feature only the best medical services the province is willing to afford.
"Who needs Concordia Hospital, when we've got plenty of perfectly good trajchtmoakas willing to bus in from Vankla," said Froese. "Let me tell you, my uncle Corny will fix you right up!"
The announcement was met with unbridled enthusiasm across the city.
"This is tremendous news! I told my Henry to cut back on the schmaunt fat years ago," said Mrs. Reimer. "So, if he's a bit further from the ER than he used to be, that's his own fault. I've got my eyes on that Klassen widower anyway."
The grand opening for the new 'Mergency Room is this Saturday at 2 pm. Band-aids will be handed out to the first two hundred people in attendance…which will completely exhaust the provincial supply for the year.
(photo credit: Josh Graciano/CC/modified)