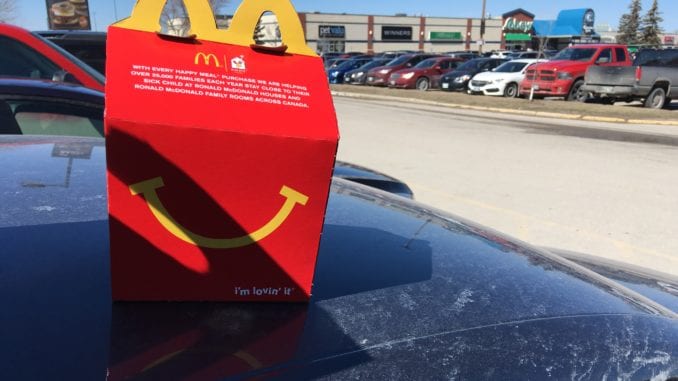 LEAMINGTON, ON
Mr. Earl Penner had some explaining to do after he inadvertently drove off with the kid's Happy Meals on the roof of his car.
"I came home and I was, like, 'Well, we've got a quarter pounder with cheese for Anne and a Big Mac for me, but where on earth are the Happy Meals?'" explained Earl. "I guess that's what happens when you send Dad all by himself to pick up the McDicks."
Little Andy and Jennifer immediately burst into tears when they found out there was nothing for them.
"I pulled the pickles off my Big Mac and offered it to them, but they wouldn't take it," said Earl. "It was the saddest Happy Meal I've ever seen. They were especially disappointed to discover the Big Mac doesn't come with a toy robot."
Earl decided the only thing he could do was return to the restaurant and make another order.
"This time I made sure to cradle everything in my arms as I drove," said Earl. "It wasn't easy, and the food was cold by the time I returned, but at least the kids were happy."
Earl regrettably had to make a third trip after it was discovered he'd completely forgotten the ketchup and there weren't nearly enough napkins.