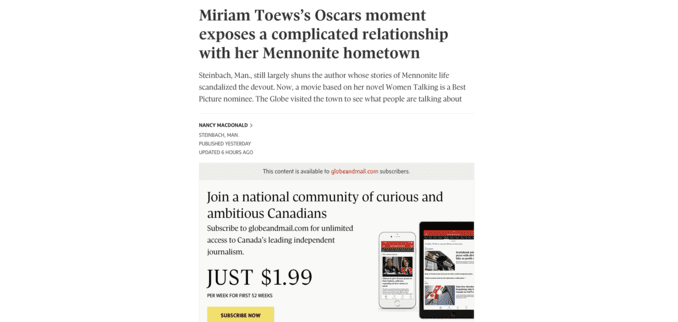 STEINBACH, MB
Moments after learning the city had made national news yet again, thousands of Steinbachers clamoured to find out what was said about them.
"Ugh. Paywall. Typical," said Mrs. Plett, who was attempting to access the article between bites of her delicious Chicken Chef meal. "Now I'll have no idea how bad we'll come across in this article."
The paywall stumped Mr. Fehr at the coffee shop, too.
"Dietschlaund!" proclaimed Mr. Fehr. "Here I am trying to start my day like I always do with a Nancy Macdonald article and now they want to charge me $1.99! Outrageous! I guess I'll stick with The Daily Bread devotionals. Those come for free."
Even the advice from his grandchildren to clear his cookies and try Incognito mode didn't seem to work for Mr. Klassen.
"I clear my cookies every morning as soon as I get up," said Mr. Klassen. "My Martha doesn't always like it, but my doctor says a good cookie cleanse is beneficial for my health."
Unable to access the article without paying, locals are going to wait until someone prints it out and donates it to the local thrift store.
"I don't pay to read things," said Mrs. Plett. "Miriam's books never had a paywall! I didn't read those, either, but still …"
Meanwhile, The Unger Review is kindly reminding readers not the cleanse their cookies before accessing the website.