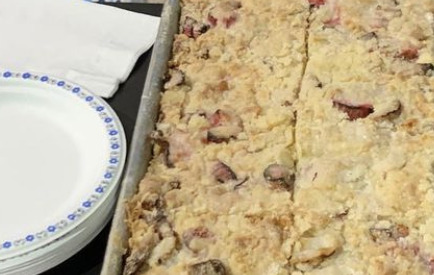 HOLLYWOOD, CA
Although no one is quite sure how it got in there, cast and crew of the Oscar winning film Women Talking found a delicious tray of platz in each of their Oscar gift bags on Sunday.
"Oh, and look, there's even a plastic fork and a Royal Chinet paper plate in each bag!" said a delighted Sarah Polley. "This is going to be the most delicious Oscar After Party ever!"
The platz was the perfect balance of sweet and tart, which led some partygoers to wonder about its source.
"I've had a lot of platz in my day," said author Miriam Toews. "And this ain't no Hollywood platz, that's for sure. This is the real deal!"
Soon, however, some began to have their suspicions.
"I was just in Steinbach, so I know what real platz should taste like," said costume designer Quita Alfred. "Let me tell you, I'm impressed. I think I have an idea where this might have originated …"
At the bottom of the tray, she found a note inscribed by the Mennonite community of southern Manitoba.
"Thank you for this incredible film!"