Ever wondered waut de hunt is komst borscht or plumi moos? Well, you can wonder no more, because the Daily Bonnet has created this handy dictionary of popular Russian Mennonite dishes. Now you can go to Schteinback and order like a pro!
Clops: Hamburger patties. Served bunless as all meat should be.
Faspa: A light lunch usually consisting of pickles, cheese curds, deli meat and raisin buns. Commonly consumed at funerals or after Sunday afternoon love-making.
Formavorscht (Farmer Sausage): A smoked pork sausage made from 100% real Manitoba hogs and only trace amounts of farmers.
Glums Koki: Small fried pancakes made of cottage cheese. Literally "cottage cheese cookies." Inspiration for the popular Mennonite children's TV character the Glums Koki Monster.
Jreen Schaubel Supp: Green bean soup. Contains more sausage than beans. Andrew's favourite.
Jreewe: Cracklings. Though, this is not the same as what is commonly called "cracklings" in other cultures. This is stuff you scrape off the pan after frying any of kind of pork. Commonly eaten at breakfast. Considered a health food by Mennonites.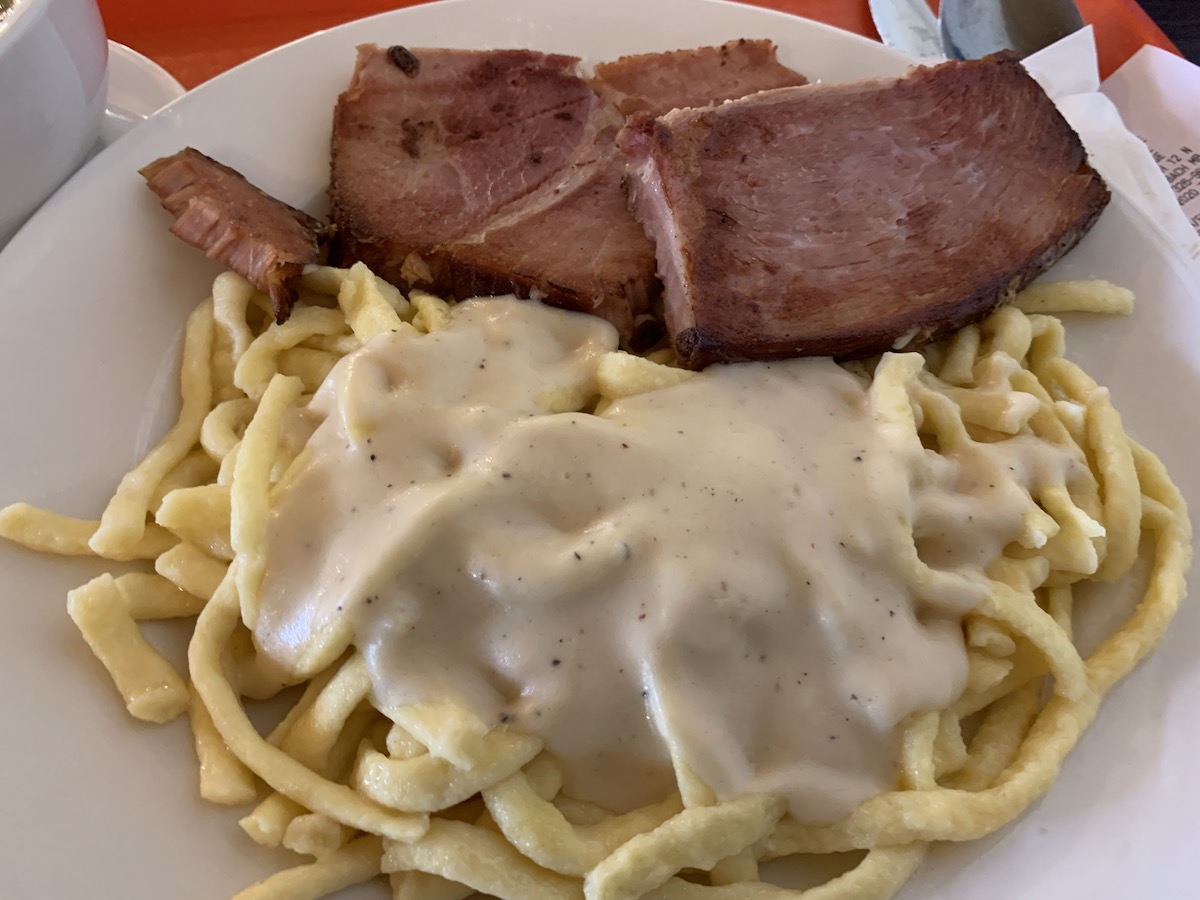 Kjielkje: Short thick noodles served with schmaunt fat.
Knackzoat: Roasted sunflower seeds. Warning: Excessive consumption may cause your mouth to turn numb.
Komst Borscht: A hearty soup made from cabbage and farmer sausage.
Neijoahschkuake: New Year's Cookies. A fried donut served with icing sugar.
Papsi and a Ravel: Pepsi and a chocolate ice cream bar on a stick.
Paska: A sweet lemon-flavoured bread or bun with a cream cheese-based icing and sprinkles. Served at Easter.
Perishki: A bun with meat in it of unknown specificity.
Plumi Moos: A cold plum soup forced on young people by their Mennonite grandmothers.
Rapple Chaps: Ripple chips. Old Dutch preferably.
Roll Kuchen: A fried donut served with Roger's Golden Syrup and watermelon.
Rabus: Watermelon. Served with roll kuchen.
Ruehrei: Scrambled eggs but with flour. Should be more doughy than eggy if you're doing it right.
Schnetke: Biscuits. Better than scones.
Schmaunt Fat: A white cream gravy served on kjielkje and vereniki.
Shjintjefleish: Ham, but much more difficult to pronounce.
Summa Borscht: A borscht variant containing sorrel that it is served in summer or by heathens in winter.
Vereniki: Perogies. Dumplings. Common Mennonite versions include cottage cheese and Saskatoon berries, but not at the same time. Covered with ample schmuant fat. (Sour cream not permitted).
Yerba Tea (Yerba Mate): Brought to Canada by Mennonites from Paraguay, this is a thick green tea served cold or hot and drank from a metal straw and a carved out bull's horn. Often mistaken for cannabis.
Zwieback: A double bun. A bun with another small superfluous bun on top.