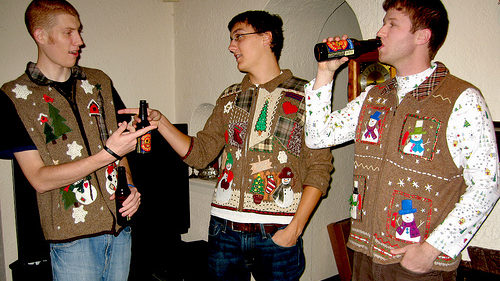 CORN, OK
Unintentionally ugly Christmas sweaters were on full display at the Kliewer family Christmas gathering this past week. Only Grandma Kliewer was unaware of just how hideous the sweaters were.
"I'm so glad to see all my grandchildren appreciate my efforts," said the elderly lady with pride. "I see Jessica and Colin are even wearing the socks I made for their birthdays…and they're not even being ironic about it."
Grandma Kliewer may be unaware of many things, but she always seems to notice whether or not her handmade items are being sufficiently utilized.
"We have to wear these things," said young Timothy Kliewer. "Grandma knitted them for us last year, so until she passes away we have to wear them at every single family gathering…and, let me tell you, we have a lot of family gatherings!"
The Kliewer grandchildren were quick to remove their knitwear the moment Grandma lay down for a nap.
"We're hoping it's a long nap," said Timothy. "Not only are they ugly, but these sweaters itch like crazy!"
(photo credit: by TheUglySweaterShop/CC)