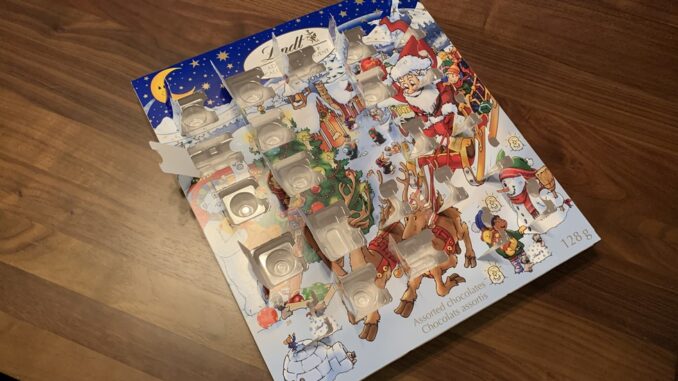 LEAMINGTON, ON
Janessa Froese, 37, of Leamington is very excited that Christmas is only a couple days away … at least according to her advent calendar.
"It's been a long and delicious December," said Froese, scarfing down the chocolate intended for December 23. "Just two days left to go."
Once she arrives at Christmas Day, which apparently is tomorrow, Froese plans to start on a second chocolate advent calendar.
"Umm, yeah, that's right, a 'second one,'" said Froese, looking awfully suspicious. "Don't believe the totally unfounded rumours that I got through a whole calendar in a day."
While Froese's strategy does lead to some delicious chocolate, it puts her in quite the awkward position with her children.
"They're going to want their presents this Monday," said Froese. "I guess it's okay if they get their tootyas a little early."
Meanwhile, Froese's husband Dan is just two days away from his annual meddachschlop.