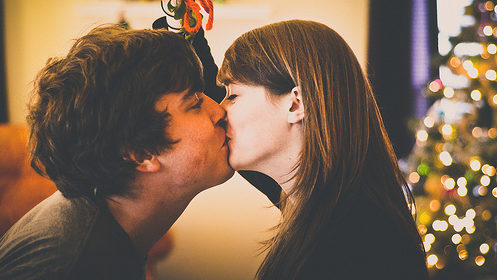 REICHENBACH, MB
The presence of mistletoe at the Epp family Christmas gathering this past week, caused quite the number of awkward moments for the Epp cousins.
"I don't know why Oma insists on putting mistletoe all over the place," said Samantha, a second-year U of M science student. "She even put some right above the molasses cookies. She knows I can't resist those cookies. It's like she's setting me up."
As it happened, cousin Allan was also eager to try the molasses cookies and so there they were, Samantha and Allan, with no other choice than to exchange a quick peck on the cheek.
"Diewel! You can't even move around here without kissing a cousin," said a noticeably frustrated Samantha. "That Oma Epp is a schlikje woman yet!"
When asked, Oma Epp pleaded her innocence and said that although she thought Samantha and Allan would make a lovely couple, she had no intention of forcing her will on anyone.
"Ach, I don't see what the problem is; they're second cousins anyway," said Oma Epp. "How else is Samantha going to meet a nice Mennonite boy yet? Sometimes Grandma has to help out a bit."
(Photo credit: by Will Folsom/CC)