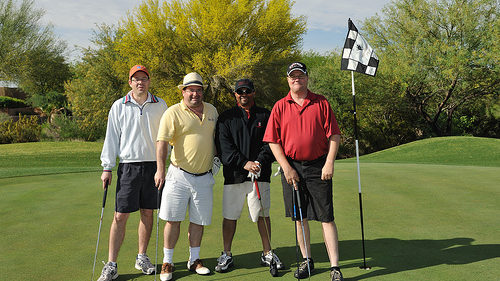 STEINBACH, MB
Local accountant Ed W. Friesen took to the links for the first time this season and soon became frustrated with his lack of prowess. After just two holes, where he scored a 9 and 11, Friesen was seen hurling his 5-iron into the lake at the Fly-in Golf Course, causing considerable embarrassment for his playing partners.
"I really wish he'd settle down a little," said Friesen's golfing partner Peter Broesky. "He comes out with us maybe once a year, or every other year. He doesn't even go to the driving range. The man can't drive or putt, but he sure knows how to swear."
Friesen says he invested considerable funds into a new set of clubs and a bunch of used balls collected from the water hazard, so he has no clue why he still sucks so bad.
"I even subscribe to the Golf Channel," said Friesen, pounding back a lite beer. "But none of that BS seems to help me at all. I don't know. I think I'll never play again after this. I'm through with golf."
Friesen reportedly left the course in a huff and spent the next couple hours downing shots of tequila at the clubhouse, while he waited for his friends to complete their round.
"Better luck next year, I guess," said Friesen, who was later seen purchasing a new curling broom in anticipation of the one match he plans to play this winter.
(Photo credit: by Phil Sexton/CC)