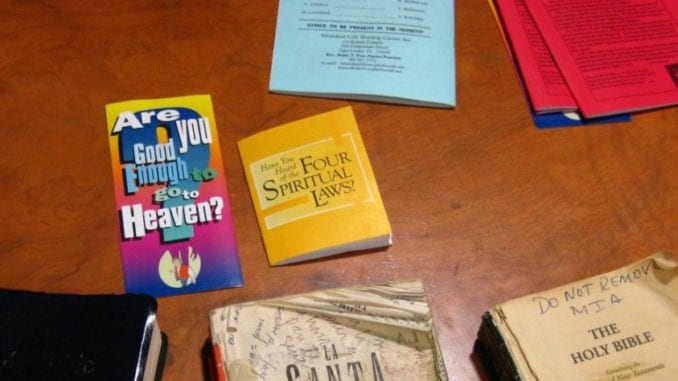 STEINBACH, MB
Never wanting to miss an opportunity to spread the Good News, local couple Marvin and Brenda Brandt of Steinbach decided they would shatter the hopes and dreams of every young child who came to their door on Halloween by handing out a 'Road to Salvation' pamphlet printed in 1971.
"There is nothing sweeter than the Gospel," said Mr. Brandt, "not even miniature Reese Peanut Butter Cups and Jolly Ranchers."
The couple is looking forward to the smiles on the faces of every little Dora the Explorer or Ninja Turtle who comes to their door.
"They'll have enough candy," said Mrs. Brandt, "but what they might not have is a really oversimplified version of Christian theology told with poorly drawn cartoon images."
The Brandts reside in the ritzy Georgetown neighbourhood, which is known throughout Steinbach for having the best trick-or-treating.
"Most of our neighbours are trying to outdo each other by giving out the most expensive candy," said Brandt. "But I have my suspicions they're just dentists trying to drum up business. Brenda and I, on the other hand, intend to drum up business for the Lord, and we're confident that this is absolutely the very best way to do that."
(Photo Credit: brownpau/CC)