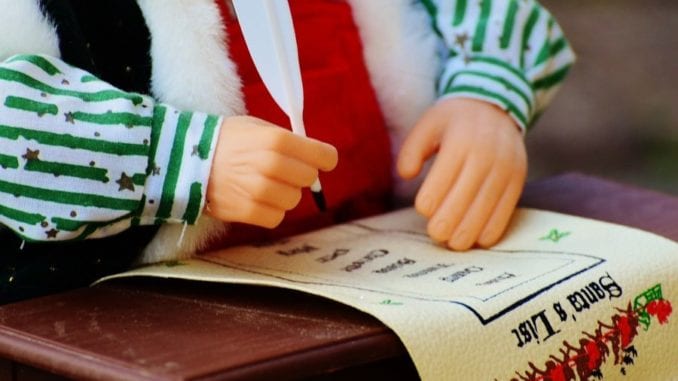 Anonymous sources close to Santa Claus have revealed his list of very naughty Mennonites to the Daily Bonnet. The following Mennonites will NOT be receiving presents this year, because they've been very very bad! (The rest of you will be receiving socks).
Mr. George Barkman, 101, Yarrow – flirting with the Thiessen sisters during Bible Study
Sarah Berg, 10, Saskatoon – not keeping her hands to herself during the pastor's boring children's story
Miss Erin Burkholder, 31, Lancaster – creating a Tinder profile without the elder board's permission
Colin Fehr, 3 months, Mountain Lake – peeing in his mother's lap during communion
Petey Friesen, 7, Linden – numerous occurrences of audible farting
Miss Noami Hostetler, 19, Kitchener – twerking in the church parking lot
Mr. Peter Isaac, 80, Blumenort – infidelity (holding a hymnal with another woman)
Mrs. Mary Janzen, 69, Wichita – inadequate scrubbing during the foot-washing service
Mrs. Susan Klassen, 51, Chihuahua – quilting under the influence
Mr. Charlie Kraybill, 39, New York City – living in a city
Miss Anne Loewen, 21, Winkler – peering into the men's section at church
The Millers of Elkhart – cliquishness
Ms. Alice Neufeld, 45, Kleefeld – cavorting with a Lutheran
Mrs. Dorothy Penner, 83, Steinbach – excessive use of star anise in her chicken soup
The entire Reimer family of Altona -numerous instances of inadequate singing volume during Hymn 606
Mr. William Stoltzfus, 25, Goshen – winking at Sally Weaver during the Lord's Prayer
Mrs. Audrey Toews, 71, Abbotsford – moving from Manitoba to British Columbia
Mr. Andrew Unger, 30-something, Steinbach – spotting
Timothy Unrau, 17, La Crete – too many Dyck jokes (10 is the maximum)
Dylan Vogt, 8, Altona – knacking zoat in the car all the way to the Vogt gathering in Reinland
Mr. Guillermo Wall, 68, The Chaco – hoarding yerba
Miss Sally Weaver, 23, Goshen – winking back at William Stoltzfus during the Lord's Prayer
Mr. Henry Yoder, 91, Lancaster – keeping his eyes open to he could watch the young people winking at each other during the prayer
Mrs. Helen Zimmerman, Lancaster – keeping her eyes open so she could watch Mr. Yoder watching the young people keeping their eyes open.
Congratulations to all those who didn't make this list this year. Please try harder next year.