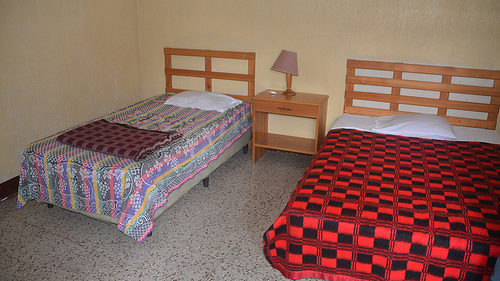 PANSY, MB
Local couple Dirk and Maria Unrau have decided to commemorate their 40th wedding anniversary by replacing their Queen size bed with two double beds.
"It was time I got a good night's sleep for once," said Maria, 63. "For four decades I've been putting up with that man's squirming and snoring and spooning and enough is enough."
After forty years sharing a bed with Maria, Dirk also agreed it was finally time to part the waters.
"Maria's feet are as cold as ice and her breath is a wonder to behold," said Dirk. "I'll be glad to rekindle our romance by sleeping in my own bed."
Maria explained that, if need be, the two beds could be pushed together on special occasions.
"Dirk's birthday is coming up, so I'm okay with moving the beds back together from 8:15 to 8:25 pm," said Maria. "But after that, it's back to the separate beds. I think this new arrangement will do wonders for our marriage."
(photo credit: by amslerPIX/CC)