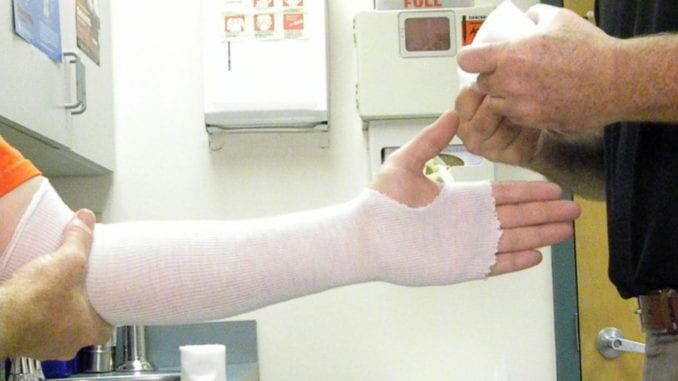 WINNIPEG, MB
Thousands of Manitobans were lined up outside the Legislative Building in Winnipeg this afternoon for their chance to get up close and personal with Brian Pallister's broken left arm. Manitobans of all walks of life were eager to sign their name on the Premier's cast.
"It's just one way of connecting with the community," said Pallister, who broke his arm while hiking in New Mexico. "I'll be here all night and from 2 to 5 tomorrow afternoon. So come on by and sign my cast!"
Billy and Katherine Schmidt drove all the way from Altona to get their chance to send well wishes to the Premier.
"There wasn't much space left by the time we got there, but there was just enough room for my initials," said Billy Schmidt. "It was quite the honour!"
Other notable signatories include rocker Burton Cummings, who quoted at length from the Wheatfield Soul album, NDP Leader Wab Kinew, who seemed to treat the cast as his own personal suggestion box, and Winnipeg Jets superstar Patrik Laine, who took a quick break during the second period of this afternoon's game to get his name on the cast.
"In Denmark they don't let you get so close to the politicians," said Laine. "Manitoba truly is the friendliest place in the world. The license plates don't lie!"
At press time, provincial staff were closely monitoring signatures to prevent any profanity.