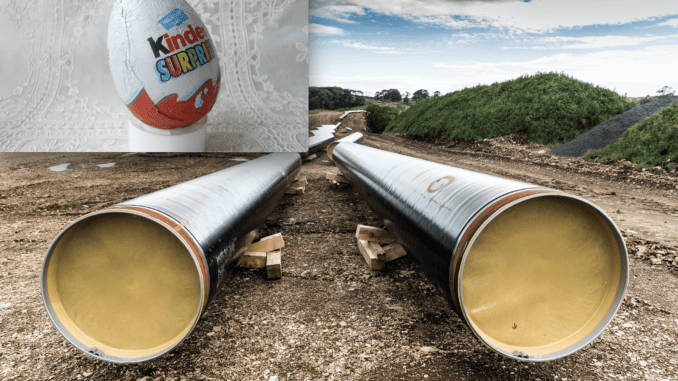 VICTORIA, BC
Concerned that increased access to thin chocolate eggs and cheap plastic toys may adversely affect the health and welfare of British Columbians, Premier John Horgan announced Tuesday that he would do everything in his power to halt construction of the massive new Kinder Surprise pipeline.
"We can't have those little German chocolate eggs just flooding into our province," said Horgan. "This Kinder Surprise pipeline will bring us nothing but trouble let me tell you!"
The full environmental impact of the Kinder Surprise pipeline is not yet known, though Horgan believes it's not worth the risk.
"Can you imagine what would happen if there was a spill?" pondered Horgan. "B.C. children would be so hopped up on sugar, they'd be more uncontrollable than they already are. It's bad enough that Abbotsford kids are out of control. We don't want that kind of behaviour to spread across the province."
Some people, however, support the Kinder Surprise pipeline, including the Premier of Alberta Rachel Notley, who argued that getting Kinder Surprises flowing again was a core component of the Canadian economy.
"Oh, sure, you'll have a few kids on sugar rushes and some might be disappointed when they see how lousy the toy is," said Notley, "but that's a small price to pay for all the jobs that building a Kinder Surprise pipeline will provide."
Notley is also proposing a massive Toblerone pipeline that will run straight through the Rocky Mountains, across the prairies, and end up in the Hudson Bay near Churchill where resident polar bears will transport the Toblerones to remote northern communities.
(photo credits: Coralie Ferreira, Alistair Hamilton/CC)