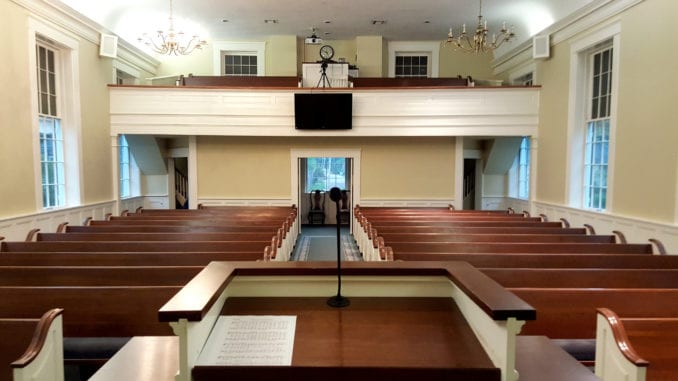 GOSHEN, IN
Fresh out of seminary, Pastor Dave was really excited about his new Associate Pastor position at East Mennonite until he discovered first hand just how frugal the church board can be. Dave was concerned about the effects of sitting for prolonged periods of time and asked for one of those standing desks to be installed in his office. Instead, the elders had other ideas.
"Ach, a standing desk? Who's ever heard of such a thing?" said Elder Yoder. "If he wants to type out his sermon while standing up, he can use the pulpit."
Pastor Dave did try to use the pulpit for a few hours last week but found the lady who came in to vacuum the sanctuary always stood expectantly and stared at him.
"I was just trying to get some work done at my standing desk, but it didn't take long before a crowd had gathered," said Pastor Dave. "I tried to tell them they'd have to wait until Sunday, but they just wouldn't take no for an answer. So I ended up making up a sermon on the fly."
As it turns out Dave's impromptu sermon was just as informed and nuanced as church members were accustomed to at East Mennonite.
"They started to come back every day expecting a sermon. The seniors stopped by on the way to the coffee shop," said Dave. "It got to be too much. So I've gone back to sitting in my office on one of those wooden church basement chairs."
Not only has the church generously provided Pastor Dave with a standing desk, but he's also being provided an old sofa in the youth room that will now serve as his parsonage.
(photo credit: George Bannister/CC)