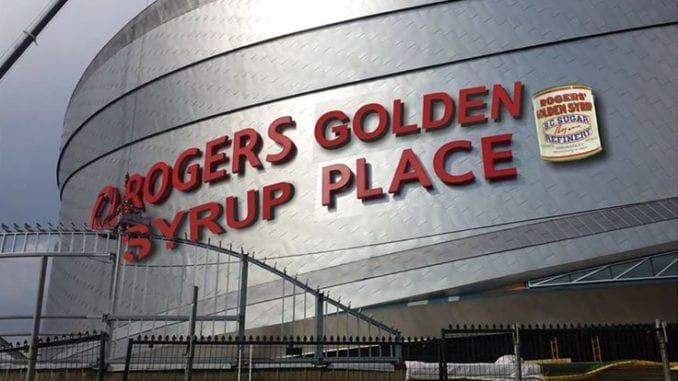 EDMONTON, AB
A group of wealthy Mennonites have honoured their favourite summer treat by purchasing the naming rights to the downtown Edmonton arena. Beginning today, the Oilers' arena will officially be known as Rogers Golden Syrup Place.
"We're also replacing all the hot dogs with formavorscht schnetke and the beer with Welch's grape juice," said new arena sponsor Fred Reimer. "It's going to be quite the experience, let me tell you!"
The Oilers take on the San Jose Sharks tonight, and many of the players found the new name a bit of a distraction.
"Here I am in practice trying to improve our penalty kill and all I can think about is roll kuchen," said team captain Connor McDavid. "I really wish they would have waited until the summer to unveil the new name. I mean, how do they expect us to concentrate on hockey when we've got Rogers Golden Syrup on the brain?"
On average, Mennonites consume more than 37 litres of Rogers Golden Syrup per week, though this figure increases dramatically during the hot summer months.
"We considered other names, too," said Reimer, "but 'Watermelon and Roll Kuchen Place' just didn't have the same ring to it."
The group says they plan to host quilting bees, gospel quartet concerts, and MCC conventions at the arena in the off-season.
(photo credit: Larry Thiessen. Thanks, Larry!)