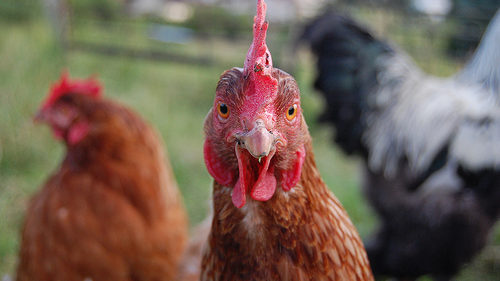 LINDEN, AB
Local home cook Mrs. Margaret Martens of Linden arrived early in the morning the day after butchering day to buy up as many chickens as she could from the area Hutterite colony. Martens says she much prefers the taste of the Hutterite chickens to the store bought variety.
"Mrs. Martens was here at five in the morning," said colony butcher Peter Hofer. "She told us she'd take everything we have."
Martens says the Hutterite chickens have much more flavour than the Safeway chickens.
"Once you go Hutterite, you can't go back," said Martens, as she stuffed her 1998 Ford Taurus to the brim with delicious chickens.
"I may have to return and get some more once these run out," said Martens. "I've filled both my deepfreezes with these chickens yet. I've even asked my daughter-in-law if I could store some in her freezer."
Martens says the chicken sales are not advertised but if you have the right connections and know the right people you can be the first in line to purchase these delicious chickens.
"You've gotta have your ear to the ground," said Martens. "I'm not going to give away all my secrets, but let's just say I've got my sources."
Hofer said there still are a few chickens left for those who are interested in tasting chicken like they've never had it before.
"I don't let Mrs. Martens completely buy us out," said Hofer. "I want everyone to have a chance to share in our amazing chickens."
(Photo credit: by Andrew*/CC)