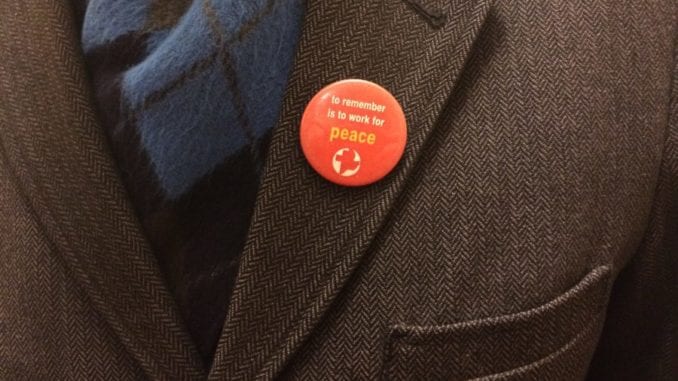 WINNIPEG, MB
Local college student Jesse Linklater sported one of those "To Remember is to Work for Peace" buttons all around the Canadian Mennonite University campus this week in an attempt to attract the attention of an eligible young Mennonite woman.
"I'm not a Mennonite, but I heard if you want to get with a Falk or Friesen girl you've gotta have one of these buttons," said Linklater. "And, I mean, who doesn't want to get with a Falk or Friesen? Even us Englishers know they're the best."
Linklater, an English literature student at U of M, purchased his button at a nearby Ten Thousand Villages store and immediately pinned it to his lapel, making sure not to cover it with his argyle Banana Republic scarf.
"I waltzed right into Marpeck Commons, looking like a million bucks with my MCC Peace pin and ordered myself a latte," explained Linklater. "Then all I had to do was sit there and wait."
The young man did wait for quite some time, at one point even clearing his throat loudly and repositioning his chair so as to show off his pin.
"There was one problem I hadn't counted on," said Linklater. "Every single student on campus had one of these buttons.  On their coats, on their bags, braided into their hair. I didn't stand out at all."
Linklater says he is planning to rethink his strategy of picking up Mennonite girls.
"I've also heard you can just show up to church and offer to share a hymnal," said Linklater. "But I heard that from the same guy who told me about the Peace Button thing, so I'm not counting on that strategy either."
Linklater agreed to speak with media as long as we mentioned he's a fine young man, with a good heart, just looking for love from a Mennonite woman between the ages of 18 and 22…preferably a Friesen or a Falk.