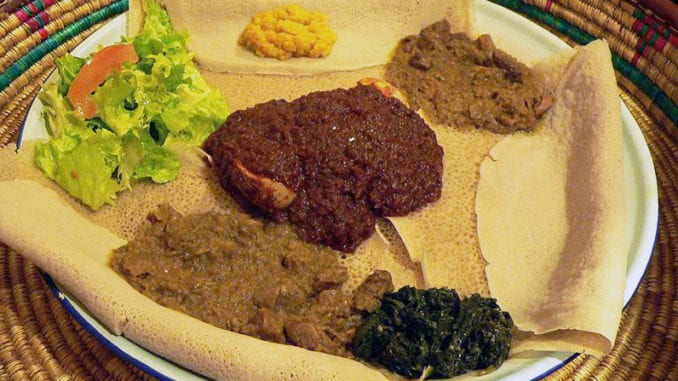 It's finally here! Mennonite Heritage Week! A time to sit back and reflect on everything that it means to be Mennonite. While you're arguing in the church lobby about the nuances of being a pacifist in the 21st century, here are some authentic Mennonite dishes to satiate your appetites!
Nasi goreng – You can't have a Mennonite feast without this rice and meat dish from Indonesia. Try it once and you'll never go back to eating non-Mennonite food again!
Injera – This delicious sourdough flatbread made of teff flour is a popular dish among Ethiopia's hundreds of thousands of Mennonites.
Salteña – Please don't call it an empanada. More Bolivian salteñas are consumed each year than any other Mennonite pocket of dough.
Moambe chicken – The national dish of the Democratic Republic of Congo, this chicken stew is an excellent addition to your Mennonite Heritage Week party.
Bhutte Ka Kees – You'll find this popular corn snack on the streets of Madhya Pradesh, India. A truly wonderful Mennonite experience!
Raclette – Anyone up for a few pounds of boiling hot cheese? If you are, you may want to join the Swiss and try a real Mennonite raclette this week.
Som tam – Also known as green papaya salad, this is one of the most delicious dishes consumed by Mennonites. Trust me on this one. Mennonite grandmas love it!
Cochinita pibil – No one makes this slow-roasted pork dish like the Mennonites of Mexico. Perfect for an after church meal!
Vereniki – Little known to most Mennonites, this obscure dish is popular among the small number of Dutch-origin Mennonites whose ancestors happen to have lived for a few centuries in Prussia and Ukraine.
Gross pizza from the food court – Once thought of as a novelty, in recent years gross pizza from the food court has become a go-to meal for many North American Mennonites.
(photo credit: Rama/CC)