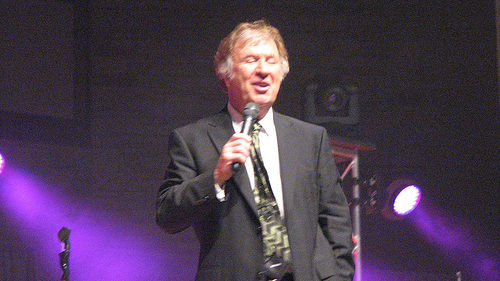 BY: ONKEL CORNY LOEWEN
Oba, so on the Internets I noticed all these Enjelsch people posting lists of the music groups they have gone to see at the local barn loft or whatever. Well, I've gone to see some music players, too. Here is my list yet.
Jimmie Rodgers – I was a young boy when Jimmie Rodgers came to town. Oh, mercy, his yodelling left me in absolute rapture.
Taunte Lina and Her Sassy Sisters – This was a local group from Jantsied. My heart was broken when one of the Sassy Sisters married my cousin Harry. I haven't listened to their 8-track ever since.
Roy Acuff – They sure don't make hoedown music like they used to in Roy Acuff's day. To me, Hank Williams has nothing on this guy. Bertha even walked up the aisle to 'The Great Speckled Bird'.
The Winkler MB Seniors Choir – For years I watched as choir members came and went. They mostly performed at the funerals of recently deceased members of the choir. I've been a member for the past six years.
The Gaither Vocal Band – Back in '93, Bertha and I drove down to Nashville to watch a Gaither Homecoming live and in concert. It's like the Woodstock for people who are morally opposed to the use of drums.
The Cathedrals – At first when Bertha said we should go see the Cathedrals I was a little nervous. Mennonites don't have 'cathedrals'. Altogether it sounded a little too Catholic for me. But Bertha convinced me and it was nice concert. I liked the bass singer especially.
George Beverly Shea – When Billy Graham came to town, he always brought along the great George Beverly Shea. His singing was so convincing that I came forward to accept the Lord on more than a dozen occasions.
The Louvin Brothers – When the Louvin Brothers sang 'Satan is Real' I was so scared I immediately went up at yet another Billy Graham crusade.
Corny Rempel's Elvis Show – Not only is Corny Rempel distant frintschoft of mine, but he's also the greatest Elvis Presley since Elvis Presley. I've gone to so many Corny Rempel shows I've lost count. I'm the guy with the suspenders in the front row.
Black Sabbath – I don't like to admit it, but in my younger years I was really into Sabbath and Zeppelin. I have since repented, but not before I saw Black Sabbath three times in the 1970s.
Oba, nay, I don't like to lie, but apparently that's part of the game. One of these is not true. You must guess.
(photo credit: by ruthdaniel3444
)