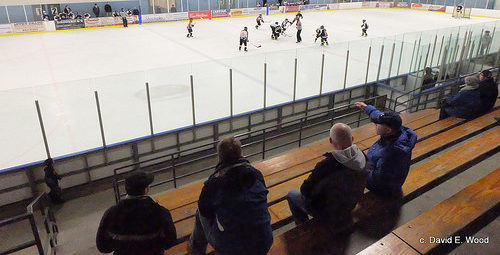 STEINBACH, MB
Things got pretty intense on Friday at the junior hockey game between fierce rivals the Steinbach Windmills and Winkler Teetotalers. Security guards were unable to prevent one overly passionate Steinbach fan from dumping an entire pail of schmaunt fat on a Winkler supporter.
"I guess he drank one too many Papsis," said Larry B. Loewen, who witnessed the incident. "He didn't like the fact the Winkler guy was wearing the wrong colours."
Such occurrences are not rare at Steinbach-Winkler matches, but usually the conflicts are able to be resolved with a consultation of the Scriptures.
"In this case, the guy was so mad about the presence of the Winkler fan that he didn't even want to stop for a quick Bible study between periods," explained Loewen. "He was dead set on dousing the Winkler man with all that white cream gravy yet."
The Winkler fan is receiving burn treatment at the local hospital, and is hoping for a full recovery. A representative from the Steinbach Windmills says they are looking into the matter and are considering ending schmaunt fat sales after the second period to prevent incidents of this type from occurring in the future.
(Photo credit: by David E. Wood/CC)