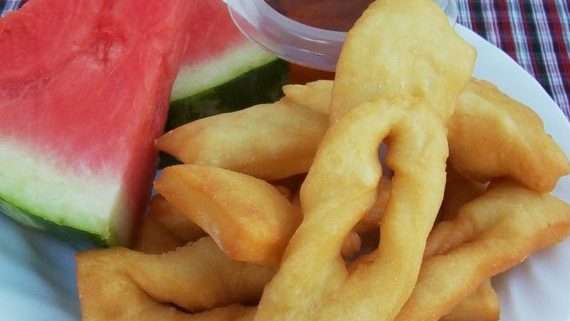 HALBSTADT, MB
Seniors at a church picnic this past Sunday had never heard such a sustained outburst of expletives as were unleashed by 83-year-old Wilmar F. Wiebe of Halbstadt after discovering he would have to consume his roll kuchen completely dry because some "kromm Näs wrigjle Moazh forgot the fedaume corn syrup!"
"I won't repeat what he said because there are children around," explained Edna Poetker, "but never in all my years have I heard such cursing. Even the teenagers smoking in front of the skating rink don't swear this much."
Mennonite fried dough, or roll kuchen as they call it, is traditionally served with watermelon and corn syrup, though certain sects of Mennonites offer variations on this tradition, which led to the confusion on Sunday.
"I'm much more concerned about the corn syrup than the swearing. I get why he was upset," said Klaus Friesen, 76. "I mean, I was mortified myself when I saw there was no corn syrup. What is roll kuchen without it? Jauma Lied!"
The church has initiated a task force to look into the issue and uncover who is to blame for the neglect of the corn syrup. The committee will also come up with a list of recommendations to make sure a tragedy like this never happens again.
(Photo credit: Pamela)