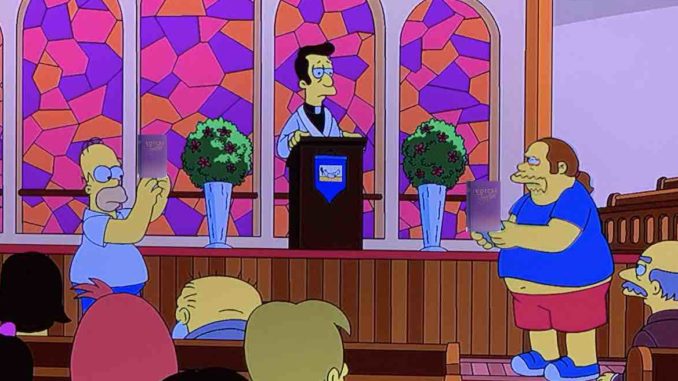 HARRISONBURG, VA
Over the years, long running television sitcom The Simpsons has correctly predicted everything from smartphones to the election of Donald Trump. Well now you can add the new 'Voices Together' hymnal to that list.
"I was binge watching through season 4 and, there it was, Homer and the Comic Book Guy doing a responsive reading from the purple 'Voices Together' hymnal," said Simpsons superfan Allen Funk. "It's strange. It's like they knew thirty years ago that the Mennonites would eventually get a new hymnal and that 606 still wouldn't be in the right place."
The episode entitled "Bart and that Penner Girl" originally aired in November 1994, though somehow the writers absolutely nailed what Mennonite church life would be like in 2020.
"It's like Matt Groening had a time machine or something," said Funk. "They even foresaw the large print edition and the awesome new Voices Together iPad app."
Skeptics, however, are not so sure that the television show possesses the future telling powers that some claim it does.
"With this many episodes, you're bound to get some thing right," said one fan. "Besides, they've been working on that hymnal since the 80s, haven't they?"