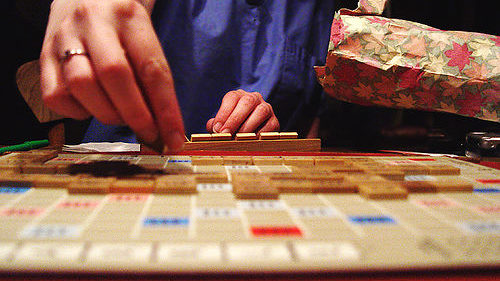 STEINBACH, MB
Mennonite couples across southern Manitoba are planning to celebrate Valentine's Day the only way they know how: by playing Scrabble.
"It'll be nice to have some time to ourselves for once. We've sent the kids to Grandma Unger's," said Samantha Unger. "Finally we'll get a chance to brush up on our Scrabble skills. I think it's been three months since we last played."
Samantha and her husband Paul, both in their mid-thirties, have not had much time alone since the kids arrived, but once a year they make sure to clear their schedules and haul out the Scrabble board.
"Paul is cooking me dinner – frozen perogies I believe – then we're going to settle down by the fire and spell words," explained Samantha. "With all that spelling and dictionary-reading, it'll be just like we're newlyweds again."
Paul is happy to finally get his wife alone so he can attempt a Triple Word Score, but hopes, at the very least for a Double Letter Score.
"I've been itching to play Scrabble with Samantha for months now," says Paul. "It's gotten so bad I've sometimes even thought about finding another playing partner, so I'm sure glad it's finally Valentine's Day."
Grandma Unger plans to return the kids to their parents at around 8:30 pm, so Paul and Samantha have only a short window of opportunity to get in a quick game of Scrabble.
"We're thankful she's willing to take the kids," says Samantha. "I just wish she would give us enough time to  play all the tiles."
(photo credit: by Kables/CC)