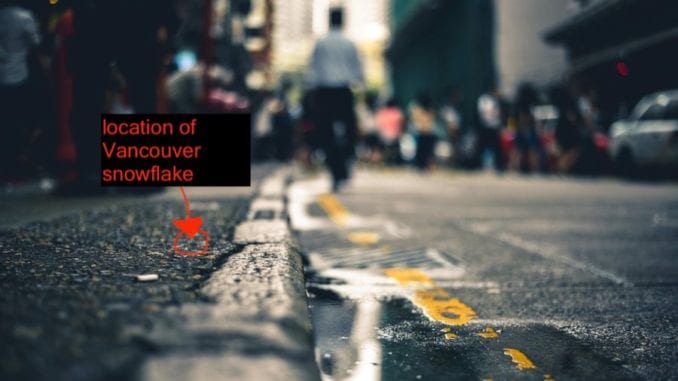 VANCOUVER, BC
The discovery of a single solitary snowflake in the Vancouver suburb of Burnaby this Monday, forced schools across the region to shut down. The sighting was reported early Monday morning and immediately caused a panic throughout the region.
"The kids are happy about it. They're all clamouring for space to go sledding on the snowflake," said Vancouver Public Safety Administrator I.M. Friesen. "However, it's sure wreaking havoc on our infrastructure. We didn't budget for snow-clearing this year."
The single snowflake was the largest winter storm of the season and as a result of the wintry weather, traffic was backed up for miles on the 7A.
"The morning commute was horrible," said Friesen. "Vancouver drivers simply aren't used to these kind of harsh driving conditions. It's a good thing they closed the schools."
Vancouver residents were quick to take selfies with the snowflake and post them on Facebook and Instagram.
"I want to show all my relatives in Manitoba what Vancouver winters really are like," said Miss Wiebe, sporting a Canada Goose parka and huge clunky Sorel boots. "You know we're not as fragile as everyone on the Prairies thinks we are."
Schools are hoping to reopen on Tuesday, so long as parents let their children walk to school in the frigid 7°C temperatures.