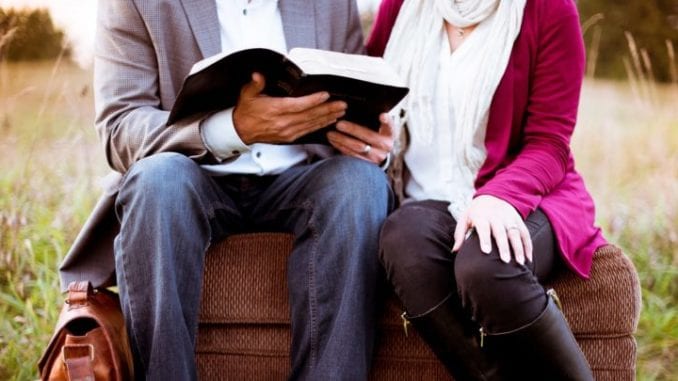 KIDRON, OH
Mrs. Anne Miller of Kidron rushed home on her lunch break this past Friday to meet her husband Peter and have a quick noon-hour Bible reading.
"We really didn't have much time, but we managed to get through the last chapter of Joshua and a snippet of Judges before I had to get back to the office," said Anne. "I'm almost embarrassed to even talk about it. These nooners are our dirty little secret."
Peter really enjoyed the nooner this week and hopes to make it a weekly tradition.
"I mean, you can't do it too often or people start to get suspicious. I've even started to park my car a block away and walk home so the neighbours don't get any ideas," said Peter. "If old Mrs. Lehman knew what was going on between 12:15 and 12:45 she might have a heart attack."
The Millers feel this time doing their devos in the middle of the day has really spiced up their marriage.
"It's good to sneak off and dig into the Word together," said Anne. "I just make sure to give myself five or ten minutes to compose myself before heading back to work. That Doris is such a busybody. She can smell a nooner a mile away."
The Millers plan to read through the entire Bible in a year, although they admit they may have to expand beyond afternoon delights to get it all done.
"I sure hope I can keep up this pace," said Anne. "I'd be devastated to come home one day and find that Peter had already read through the Book of Ruth on his own or something."
The Millers have made their nooners public in an effort to encourage other couples to do the same.