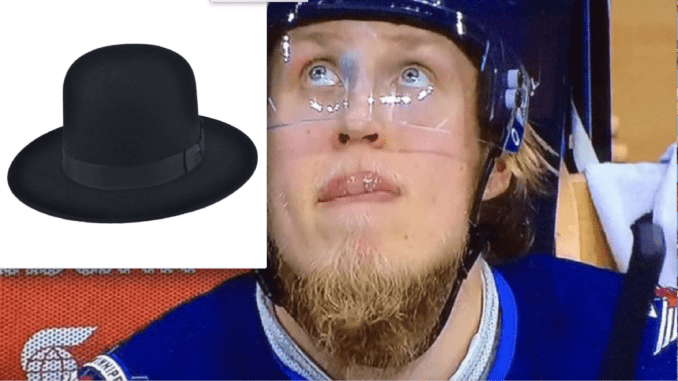 NEW YORK, NY
There were more than a few Winnipeg Jets fans at Madison Square Gardens last night to witness the young Finnish superstar, and wanna-Anabaptist, Patrik Laine score three goals against the lowly Rangers. In honour of Laine's growing interest in all things Mennonite and Amish, Jets fans threw black Amish hats onto the ice.
"What a game," exclaimed excited Jets fan Peter Berg. "A hat trick for Patrik! Good thing we stopped in rural Pennsylvania on the drive down here!"
The ice was littered with black Amish hats after Patrik Laine plunked the puck into the empty net late in the third period.
"I've always wanted one of these hats," said Laine after the game. "I've already got the beard. Now all I need is a nice pair of suspenders."
Jets fans promised to toss suspenders onto the ice the next time Laine scores a hat trick.
"If he wants suspenders, we'll give him suspenders. If he wants rubber boots, I'll give him some. Heck, if Patrik Laine wants me to toss him my King James Bible or Mennonite hymnaI I'll do that, too," said Berg. "All I ask in return is a Stanley Cup."
Laine promised to give Jets fans a Stanley Cup, but claimed he would not celebrate, as is hockey tradition, by drinking champagne from it. Instead he plans to hoist Lord Stanley and guzzle some non-alcoholic Mennonite-approved beverage.