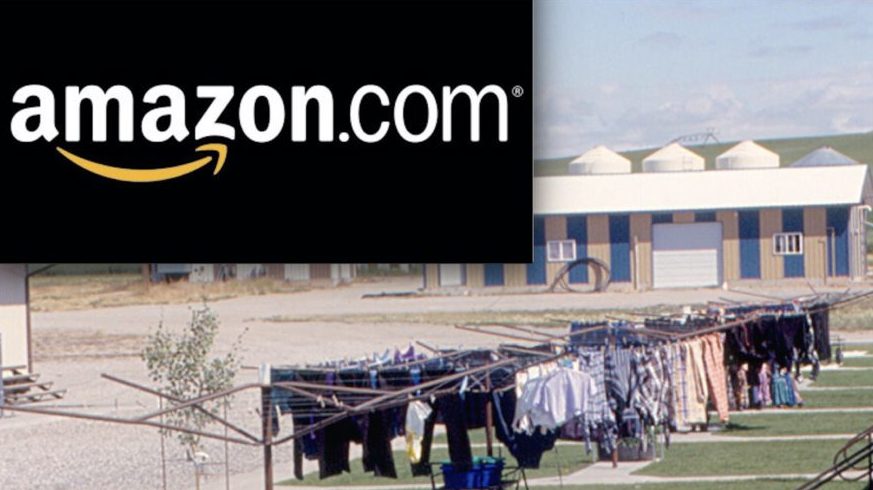 RIDGE STREAM COLONY, AB
After months of meticulous research, Amazon has made it's decision. The online shopping giant announced today that their new headquarters will be set up on a small Hutterite colony in southern Alberta. While many large cities across North America attempted to lure Amazon, in the end it was decided that the Ridge Stream Colony was the best fit.
"We're very excited. Currently we have about 120 people on the colony," said Mr. Waldner, a Ridge Stream leader. "It will be quite the challenge to house and feed 50,000 more people, but if anyone's capable of doing it, it's us Hutterites."
Currently, the main industry on the colony is chicken farming, but Ridge Stream residents are looking forward to processing and shipping Harry Potter books and Justin Bieber CDs instead.
"The ladies are already working on making thousands of flower dresses for our new residents," said Waldner. "The place is a buzz with excitement. We haven't had this many people on the colony since we hosted the Grand National Hutterite Softball tournament back in '87."
Amazon says they selected the colony because of the Hutterite reputation for hard work, low labour cost, and wholesome farm-to-table cooking.
"Calgary and Toronto desperately wanted us to move there," said Amazon executive Samuel Hobbes. "But one taste of the famous Kleinsasser roast chicken was all we needed to make this decision."
The new 10 million square foot facility will be open at Ridge Stream Colony by early 2018, after which time all Amazon purchases will come a copy of the Complete Writing of Jakob Hutter and a free German beer sausage.
(photo credits: Claudio Toledo, Roger W./CC)