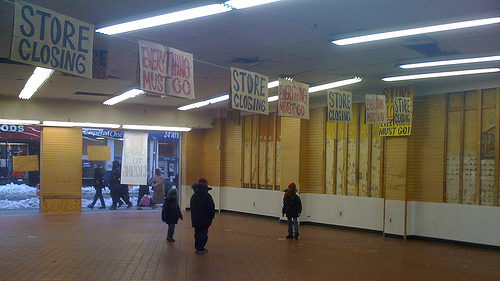 STEINBACH, MB
First-time customers arrived in droves this weekend to check out Dueck Hardware's going-out-of-business sale. The hardware store, started on Main Street in 1973 by Mr. Peter V. Dueck, has served the community for more than forty years by providing competitive prices and superior customer service, but could no longer compete with the flow of people who prefer to shop in Winnipeg and get really crappy service at some big box store staffed by fools.
"Wow, I had no idea this place was here," said new customer Stephen L. Fast. "They're really knowledgable and helpful. I'd be a lifelong customer if these guys weren't shutting down on Sunday."
Mr. Dueck, now in his seventies, was a little overwhelmed by the volume of traffic throughout the weekend, but was happy to serve all his new customers eager to buy everything, including the fixtures.
"They were lined up outside the door," said Mr. Dueck. "I haven't seen a line this long since the Credit Union was giving out free hot dogs."
Dueck regrets the fact he has to close his doors, and thanks all his customers for their years or minutes of support.
"You never know. If all these nice people had decided to spend their money locally the last few years, I might have been able to pass the business on to my children," said Dueck. "Oh, well, I guess it's just another Main Street vacancy for Steinbach."
(Photo credit: by MattHurst/CC)