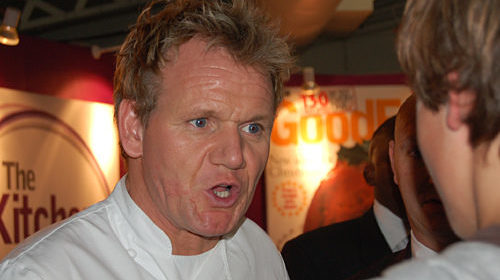 LONDON, UK
Surly British chef and television host Gordon Ramsay was briefly tongued-tied on Friday, after being stunned by the kitchen chops of Mennonite cookbook author Lovella Schellenberg and her team who appeared on Ramsay's television show. The host of Hell's Kitchen and MasterChef usually rips chefs apart leaving them crying in their soup by the end of the episode, but Ramsay was so impressed with the Mennonite Girls that he offered no criticism for the first time in his career.
"What can I say?" said Ramsay. "The culinary ability of these Mennonite ladies is unparalleled in the history of network television cooking shows."
The Mennonite Girls impressed the famed chef with Ellen's hamburger soup recipe and Anneliese's meatballs with mushroom sauce, before leaving him speechless with Charlotte's Toberlone cheesecake.
"These ladies cook with soul," said Ramsay. "There's not a single thing I would change about any of these dishes."
Ramsay says he plans to make the 'Mennonite Girls Can Cook' cookbook mandatory reading for chefs in all his restaurants, and is considering modifying the format of Hell's Kitchen to allow for more Mennonite content.
"These ladies turned Hell's kitchen into Heaven's kitchen," said Ramsay. "I guess it's true. Mennonite girls really can cook!"
(photo credit: gordonramsaysubmissions/CC)