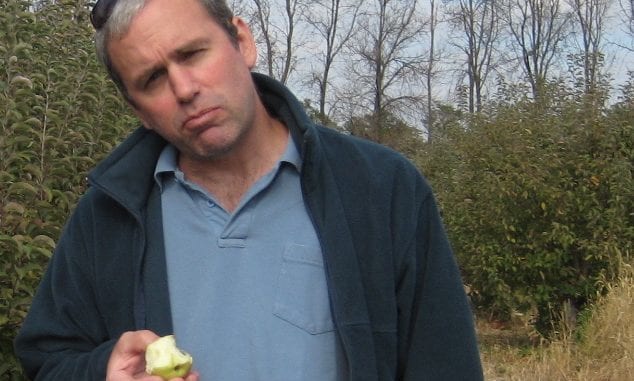 GRETNA, MB
With just two days remaining in his illustrious teaching career, retiring teacher Willy Epp of Klaas Reimer Memorial School, decided it was high time he ate all the apples he'd been given over the past thirty years.
"I was so busy teaching that I just never had time to eat all the apples the students gave me," explained Epp. "I usually just threw them in the filing cabinet and forgot about them."
With more than 900 apples in various states of decay, Epp has quite the task before him if he wishes to consume all the apples by the end of the week.
"I don't want them to think I don't appreciate the gift," said Epp, hesitantly downing a Granny Smith from the early 90s. "My strategy is to go chronologically, starting with the eldest apples and work my way to the present day. I've even invited the rest of the staff to help out, but they all claim they've got their own apples to eat."
The sheer volume of apples has put Epp in a bit of a panic, but he claims he'll have plenty of time to relax once he's retired.
"I've got the rest of my life to sit around and eat bananas and oranges and all sorts of other fruit," said Epp. "But, for now, while I'm still a teacher, I have a duty to finish these Galas and Fujis."
At press time, Epp is reportedly well ahead of schedule, having just commenced on a slightly mushy McIntosh from late 2003.
(photo credit: Emma/Modified/CC)