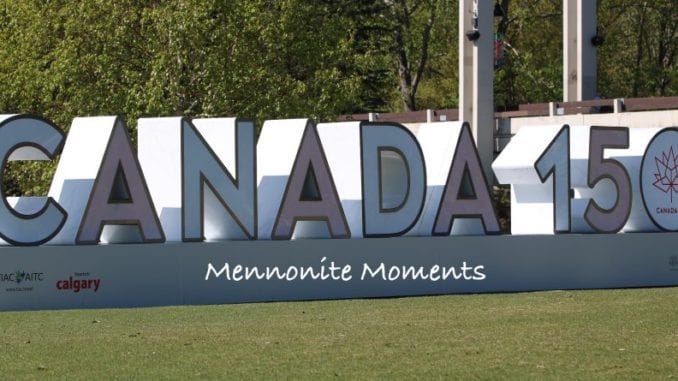 Canada turns 150 years old tomorrow, so the Daily Bonnet has compiled a list of the 150 50 great, and not-so-great, moments in Canadian Mennonite history. These are all real (not satire) and in chronological order. This is just a starting point. So be honest, I tried to come up with 150, but I realized the task was beyond my capabilities. So, here are 50 anyway. What do you think should be added to the list?
1786 – Settlers from Pennsylvania become the first Mennonites in Canada
1800 – Joseph Schoerg and Samuel Betzner establish a Mennonite presence in what is now the Kitchener-Waterloo area
1810 – First annual meeting of Mennonite ministers in Ontario
1816 – The Joseph Schneider Haus is constructed in Kitchener (which became a National Historic Site of Canada in 1999)
1822 – Amish settlers arrive in Ontario (later to become known as the Western Ontario Mennonite Conference)
1873 – Delegates from southern Russian scout out possible locations for new Mennonite settlements in North America
1874 – Dutch Mennonites from Russia settle in the East Reserve, now southeast Manitoba
1876 – A second Mennonite Reserve on the west side of the Red River is established
1881 – John Holdeman visits southern Manitoba, establishing the first Church of God in Christ (Holdeman Church) in Canada
1888 – The first Mennonite Brethren church in Canada is established near Winkler
1891 – Mennonites from Manitoba establish a settlement in Rosthern, the first in what later became the Province of Saskatchewan
1893 – Jakob Shantz of Berlin (Kitchener), Ontario starts a Mennonite colony near Didsbury, NWT (later Alberta)
1907 – Frank Siemens from Altona, Manitoba settles in Renata, British Columbia, establishing a Mennonite presence in that province
1917 – Prime Minister Robert Borden (the dude on the $100 bill) disenfranchises thousands of Mennonites and other Conscientious Objectors
1919-1921 – Mennonites are banned from immigrating to Canada, considered "undesirable owing to their peculiar customs, habits, modes of living and methods of holding property."
1920 – The Mennonite Central Committee is formed, originally to provide famine relief in Russia
1920s – From 1922-1930, approximately 21,000 Mennonites, mostly from the Soviet Union, arrive in Canada
1922 – Starting in 1922, thousands of Mennonites from Manitoba and Saskatchewan relocate to Mexico after governments shut down private Mennonite schools
1927 – Mennonites from Canada arrive in the arid Chaco region of Paraguay
1928 – Mennonites from the Canadian Prairies begin to move to the Fraser Valley in British Columbia
1933 – Jacob Penner, perhaps better described as a "Marginal Mennonite," was elected to Winnipeg City Council…as a Communist. He served until 1960, the longest for any Communist-affiliated council member in North America
1939-1945 – Thousands of Mennonites, and other members of historic Peace Churches, serve in Alternative Service camps
1947 – Humourist Paul Hiebert publishes Sarah Binks and is awarded the prestigious Stephen Leacock Medal
1946-1952 – The third major wave of Mennonite immigration to Canada
1952 – The Kleine Gemeinde (small church) changes their name to the Evangelical Mennonite Conference
1956 – Radio station CFAM in Altona is established, the first station of what later became Golden West Broadcasting
1957 – The first Mennonite churches were established in Quebec
1962 – Alberta writer Rudy Wiebe publishes his debut novel Peace Shall Destroy Many
1962 – World Mennonite Conference is held in Kitchener
1962 – Derksen Printer's famous Mennonite Treasury Cookbook makes its debut
1972 – The first MCC Thrift Store opens in Altona
1977 – Canadian Mennonite Dr. Jack Thiessen publishes the first Plaudietsch dictionary
1980 – Poet Patrick Friesen publishes The Shunning
1984 – Armin Wiebe publishes The Salvation of Yasch Siemens
1989 – The historic housebarns of Neubergthal become the first Mennonite-related site to be given a National Historic Site designation
1989 – The Simpsons debuts on television, inspired by Matt Groening's Saskatchewan Mennonite father Homer Groening
1990 – World Mennonite Conference is held in Winnipeg
1999 –  British Columbia Mennonite tenor Ben Heppner is awarded the Order of Canada
1999 – The Undecided release their self-titled album, arguably the first and greatest Mennonite punk rock album ever
1999 – Concord, Canadian Mennonite Bible, and Menno Simons Colleges join to establish Canadian Mennonite University
2000 – Arsonists destroy the windmill at Steinbach's Mennonite Heritage Village. It is later rebuilt.
2004 – Miriam Toews publishes A Complicated Kindness, a best-selling and critically-acclaimed novel on Mennonite life
2005 – David Bergen becomes the first person of Mennonite descent to win the Giller Prize for The Time In Between
2006 – Speed-skater Cindy Klassen wins 5 medals for Canada at the Turin Winter Olympic Games
2007 – Canadian writer Miriam Toews stars in Silent Light, the first ever Plautdietsch-language feature film
2007 – Brad Wall of Saskatchewan becomes the first person of Mennonite descent to serve as a provincial Premier
2011 – The first Mennonite Girls Can Cook cookbook is released
2015 – A gay couple from Saskatoon become the first to be married in a Mennonite church
2016 – Wildly-innacurate television program about Mennonites, Pure, debuts on CBC television
2017 – Corny Rempel becomes the first Mennonite Elvis to win the top honour at the Penticton Elvis Festival
The Daily Bonnet recognizes the Mennonite role in the colonization of what is now called Canada. Whether in Prussia, Russia, or North America, Mennonites, along with other settlers, were not arriving to "empty" areas. I would like to acknowledge that the land where I live is in Treaty 1 territory, the traditional territory of Anishinaabeg, Cree, Oji-Cree, Dakota, and Dene peoples, and the homeland of the Métis Nation.
(photo credit: davebloggs007/Modified/CC)