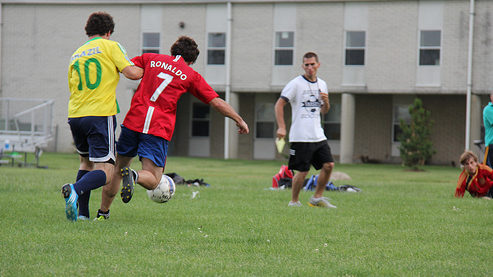 ASUNCION, PARAGUAY
A group of guys from the Fernheim Colony, Paraguay took on the Canadian men's national soccer team in Asuncion this past week and came away with a resounding five to nil victory. The Fernheim Team has now moved ahead of Canada on the FIFA rankings.
"I've been playin' football aver since Knels Toews taught us how to kick balls around in the Sunday school," said team spokesperson Arturo Klassen. "We used to play the Neuland Colony, but that was naver much of a challenge either."
Despite stopping on numerous occasions for some yerba tea, Klassen scored three goals in the match, thoroughly embarrassing the Canadian team.
"Oba, those Canadians can't play soccer for sure not," said Klassen. "Those Canadians should stick to the ice hockey."
The entire Fernheim team wore suspenders, Wrangler jeans and Crocs and still the Canadian team had trouble keeping up.
"I lived in Canada, too, for a while, so I knew how bad they are," said Klassen. "Live in South America for six months and you'll be better at football than anyone in all of Canada."
The Fernheim team now moves on to face the winner of Bolivia and Mexico, to determine the FIFA Mennonite World Cup champion.
(photo credit: by Maggio7/CC)